Boat Flags, Fishing Flags & Custom Flags for Boats
Page
You're currently reading page

7
Boat Flags: American Flags for Boats, Funny Boat Flags & More
Boat flags are a great way to personalize your nautical vessel and have some fun along the way. From pirate flags and funny nautical flags to American flags and military flags, boat flags are the perfect way to showcase your personality while you're out on the water.
At Gettysburg Flag Works, we carry a wide variety of flags for boats. No matter what you're looking for, we've got you covered! Our boat flags are made of durable materials and are intended to be flown on nautical vessels. They're made to last whether you're out fishing, cruising, or sailing the open seas.
Popular Boat Flags
Flags have a rich and storied nautical history and Gettysburg Flag Works fully understands the rigors involved with flying a boat flag in the open waters. Whether you're looking for fishing flags, other nautical and marine ensigns, or code signal flags, Gettysburg Flag Works carries a variety of options to choose from.
Some of our most popular boat flags include our pirate flags, our American boat flags, nautical code signal flag sets, and fishing flags.
Our custom boat flags are also very popular. They make especially great gifts for the avid boaters in your life!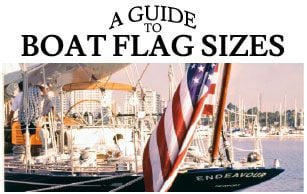 Make Your Own Custom Boat Flag
Interested in making your own custom boat flag? At Gettysburg Flag Works, it's easy!
With our Signature Boat Flag, you can customize a stock design flag with your boat name, then sit back and wait for your personalized boat flag to arrive. Need a little help with your design? No problem - just reach out to us and we'd be happy to assist!
If our Signature boat flag does not offer the level of customization you would like, we offer a full line of ground up design boat flags in all sizes, styles and colors. Decorate your boat with nothing but the finest by having us custom print or sew your boat name onto a flag for you! Fill out our Custom Flag Quote Form online, send us a quick message or call us at 1-888-697-3524 and someone will assist you!
Find all the details you need about designing a customized flag for your boat here.
Order Your Boat Flag Today!
Custom design a flag for your boat with us or buy the boat flag right off the shelf - either way you will be getting the highest quality sewn nylon, brightest inks and world class craftsmanship that Gettysburg Flag Works is known for!
Ready to get started with designing a custom boat flag? Check out our custom boat flag portfolio here for inspiration, then get started with designing your own today!
Can't quite find the boat flag you're looking for? Give us a call at 1-888-697-3524 or contact us online and we'd be happy to point you in the right direction, or help you design what you're looking for if we don't carry it off the shelf.
Products & Resources Related to Fun Boat Flags & Personalized Flags for Boats
At Gettysburg Flag Works, we don't just carry the boat flags you're looking for. We also carry the hardware you'll need to get your flag flying! We're proud to be a one stop shopping resource for everything boat flag related.
Fly your personalized boat flag with hardware from Gettysburg Flag Works. We have multiple styles of brackets and flagpoles to choose from so that your boat flag can fly securely and look its best. You can shop our wide selection of boat flag hardware and accessories here.
Looking for some insight regarding how to properly fly a nautical flag? We've got that covered too! Check out our detailed resource about boat flag etiquette here for more details on when, where, and how to fly boat flags.