Flag to Flagpole Size Ratio
How to Choose The Right Flag Size for Your Flagpole
Flag-to-flagpole ratios can be tricky. Knowing the right size flag to fly on your pole or the correct size pole to purchase for displaying a particular flag can be a challenge, but it's something you want to be sure you are doing correctly.
Luckily, our team of flag experts have put together a guide detailing proper flag-to-flagpole ratios to help you choose the pole or flag size that's right for you.
Outdoor Flagpole Height to Flag Size Ratios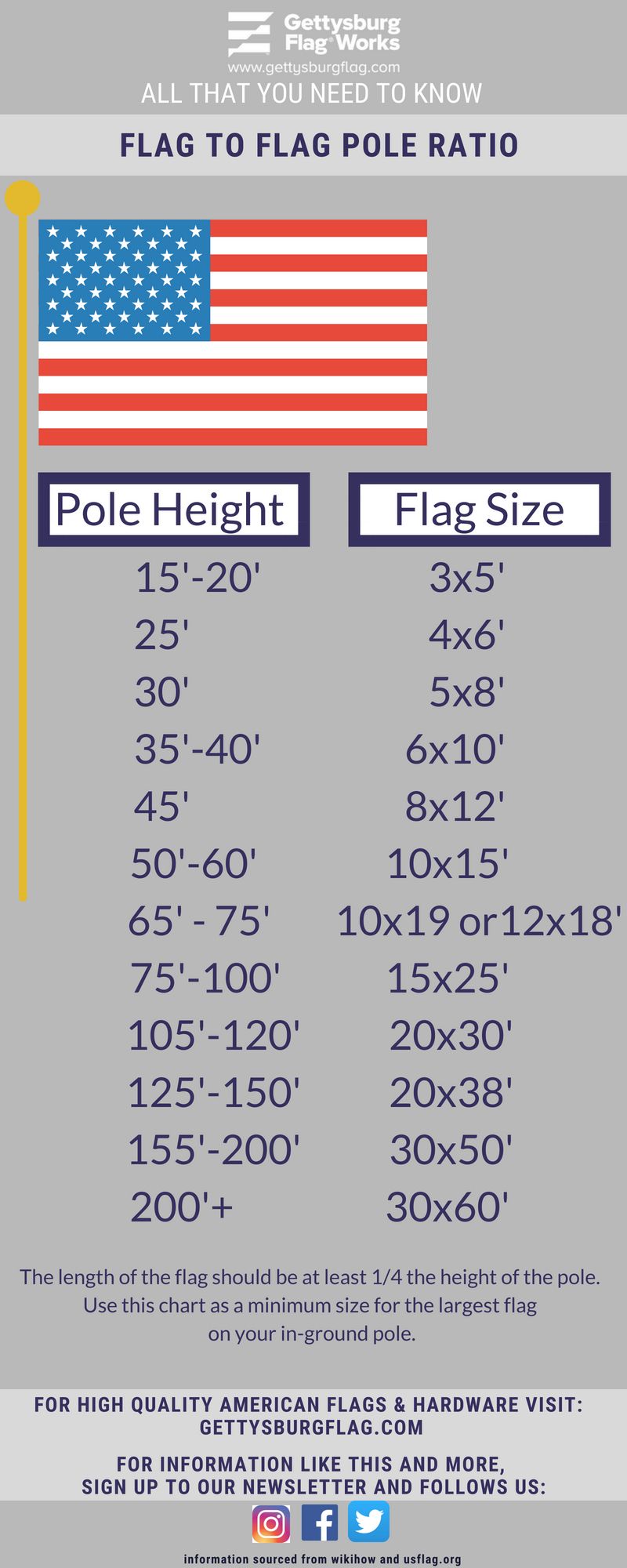 The flag size to flagpole size ratio will vary based on the type of flagpole you are using. Below, we discuss a number of the most popular outdoor flagpole options.
In-Ground Flagpole Height to Flag Ratios
For an outdoor flag on an in-ground flagpole the most common way to size your flag is by the height of the pole. The length of the flag should be at least 1/4 the height of the pole. Use the chart to the right as a guide to choosing the minimum size for the largest flag on your in-ground pole.
House Mount Flagpole to Flag Size Ratio
For a house mount flagpole we recommend a 2.5x4' flag on a 5' flag pole, or a 3x5' on a 6' pole.
The biggest factor in hanging these flags is that you don't want the flag to touch anything (bushes, trees, gutters, siding, door knobs, etc.) when it flies. Anything touching the flag will shorten the life by causing early wear and tear on the flag.
To get the flag out away from the house try our 8' poles which fit into all the same brackets as the smaller ones but protect your flag better.
Need a New Flagpole?
Ready to display a flag but need a new flagpole to do so properly? We've got you covered! We carry a variety of flagpoles. Browse our full selection here!
Looking for an in-ground residential flagpole specifically? Check out our Easy-Order Flagpoles here! Order the pole directly online and everything you need, including a Battle-Tough American flag, will be shipped right to your door.
Still not sure which flagpole you need to display a flag of a specific size? Wondering which flagpole is right for you? Call 1-888-697-3524 or contact us online and we'd be happy to help you!
Popular Resource Pages
Popular Product Pages