Pirate Flags & Jolly Roger Flags for Boats
Page
You're currently reading page

2
High Quality Pirate Flags & Jolly Roger Flags for Boats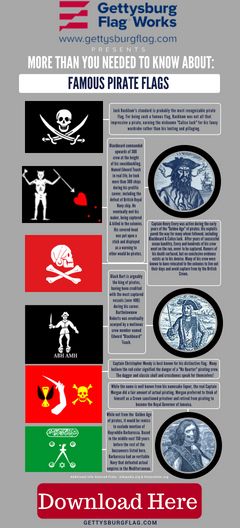 Add a little bit of extra personality to your boat with a pirate flag from Gettysburg Flag Works! We carry a wide selection of pirate flags, Jolly Roger flags and other nautical flags perfect for pirate ships (or other nautical vessels).
Some of our famous pirate boat flags have a history that make for a great topic of conversation. Other pirate flags for boats have traditional pirate expressions such as "Surrender the Booty" or "A Pirate's Life For Me." Learn more about the history and origins of famous pirate flags!
Our pirate flags are made of high quality materials, making them durable enough to fly in strong winds over high seas or open waters. All of the pirate boat flags we carry are made with durable weather-resistant fabric, and most are screen printed so the design shows on the front and back side. The pirate flags for boats are finished with polypropylene webbing and brass grommets for mounting.
Pirate Flags for Boats: A Great Gift Idea
Gettysburg Flag Works offers a wide assortment of gift ideas for boaters, including pirate boat flags!
There are so many options to choose from when looking for a gift for the boater in your life. Pirate boat flags are one of the more popular items. Select from a wide assortment of pirate boat flags, and choose the one that best fits the personality of the person you are buying for.
Custom Pirate Flags: Create a Customized Pirate Flag For Your Boat!
Want to add a personal touch to a pirate flag? We can make it happen! In addition to our wide selection of standard pirate flags, we also offer customizable pirate flags!
Custom boat flags are a must have for ones boat – particularly custom pirate flags. Choose to add a boat name, family name or favorite expression to any of the pirate boat flags or design some of your own custom pirate flags. We would be happy to show you our previous work portfolio of custom pirate flags to give you some ideas.
Add a personal touch to your gift and create custom pirate flags for yourself or the boaters in your life. Learn more about our customizable boat flags!
Products Related to Pirate Flags for Boats
Looking for something special for a special boater in your life - or for yourself? Gettysburg Flag Works carries many products and gift options for boaters beyond just pirate boat flags.
Boat and Fishing Flags
Not sure a pirate flags is the right choice? Browse our extensive selection of boating and fishing flags to find the perfect boat flag! Choose a boat flag theme based on a hobby or activity. For instance, if the boater that you are buying for likes to fish, take a look at our large selection of fishing flags. Our fishing flags are the traditional boat flag size of 12x18 inches, and are constructed of nylon with a canvas header and brass grommets for mounting.
Custom Boat Flags
Another option would be a custom boat flag. Whether you have a specific design in mind or would like us to create one for you, custom boat flags are always a creative and unique gift. Learn more about creating your own custom boat flag!
American Boat Flags
American boat flags are a timeless, classic choice for nautical vessels of all kinds. We offer the best in durability – made of all weather nylon – and a perfect fit for the boat flag pole in a size of 16x24 inches. Check out our American boat flag!
Don't Forget The Boat Flag Pole!
Ordering a new nautical flag for your boat? You'll need a boat flag pole to display it! With our boat flag pole, you can fly your pirate boat flags or fishing flags in style. Our premium pine boat flag pole is designed with a mahogany top piece for display on your boat. Check it out!
Order A Pirate Flag For Your Boat Today!
Shop our selection of Jolly Roger flags for the perfect pirate themed flag for your boat and place your order today! Have questions? Give us a call at 1-888-697-3524 or contact us online and we'd be happy to help!