Flagpole Lighting Etiquette: How to Correctly Display a Flag at Night
Flag Lighting FAQs
When it comes to setting up a flag display, there are many things to consider. From the best flagpole option for your scenario to the ideal flag material for your environment, you'll have lots of choices to make.
Another key decision many flag enthusiasts must make is whether or not they will illuminate their flag display at night, and - if they choose to light their flags at night - what type of light they will use to do so.
There's more to lighting a flag properly than you might think! Here at Gettysburg Flag Works, we are passionate about flag etiquette. From half staff rules to proper flag retirement, we care about helping flag owners fly flags they're proud of - and fly them correctly!
Read on to learn about flag lighting etiquette and find answers to common questions about how to properly illuminate a flag at night.
Does a Flagpole Have to Have a Light?
No. A flagpole light is not required. However, if you plan to fly an American flag at night, proper flag etiquette dictates that you should illuminate it.
If you fly your flag from dawn to dusk and take it down before nightfall, you do not need to have a lighted flagpole.
What is the Best Flagpole Light?
The best flagpole light is likely the one that works best with your flagpole configuration.
Solar flagpole lights are a terrific option if you're looking to light an outdoor in-ground flagpole. Our top mounted solar flagpole light is one of the best on the market. It's an environmentally friendly flagpole lighting solution that is suitable for outdoor flagpoles up to 25 feet tall.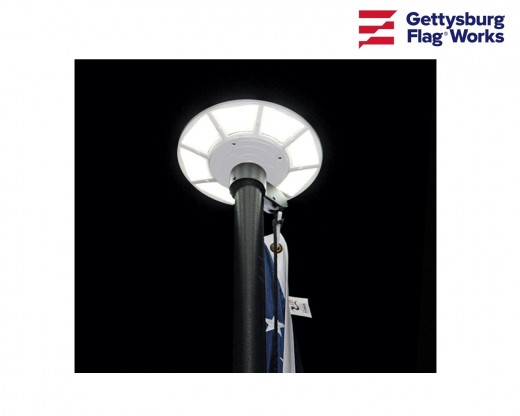 Some key features of our solar flagpole light include:
Easy DIY installation - no special tools, wiring or electrical work required
Operates with self-charging solar batteries (included)
Solar panels collect sunlight throughout the day
800 lumens of brightness
Turns on automatically at dusk
Low maintenance
Affordably priced
You can learn more about our solar flagpole light here.
How Do I Light a Flagpole?
There are a couple of options to consider when it comes to lighting a flagpole. In general, you can either light the flagpole from the ground with spotlights or flood lights, or light it from atop the flagpole with a top-mounted flagpole light. This means you can either have lights shining upwards at the flag, illuminating it from below, or you can have a light shining down on the flag from above.
Your flag display and flagpole will likely dictate which option is most appropriate.
As mentioned, we highly recommend top-mounted solar flagpole lights as they are safe, energy efficient, low-maintenance, and very effective in keeping flags illuminated at night. Check out our top-rated solar flagpole light here.
How Many Lumens are Needed to Light a Flagpole?
The number of lumens necessary to sufficiently illuminate your flag will depend on how your flag is being displayed, how you are lighting your flag, and how tall your flagpole is.
If you choose to light your flagpole from the ground, you'll need a light that offers anywhere from 1,600 to 25,000 lumens. Shorter flagpoles require fewer lumens, so while a 15 foot flagpole may be sufficiently lit with 1,600 lumens, a 25 foot pole will need closer to 25,000 lumens.
With a solar flagpole light, you'll need significantly fewer lumens to light your flag effectively. Top mounted flagpole lights range in lumens from as low as 50 to as high as 1,000. In general, for a standard outdoor flagpole, a solar flagpole light that shines at 200 lumens should get the job done. Our top mounted solar flagpole light clocks in at 800 lumens, guaranteeing that your flag will be well lit on even the darkest nights.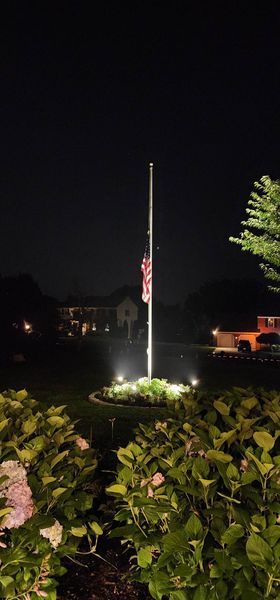 Should I Be Lighting the American Flag at Night?
If you are displaying the American flag at night, flag etiquette dictates that you should be illuminating it.
Proper flag etiquette requires that the American flag always flies in light. You should be able to see a flag clearly whenever it is displayed, day or night. This means that if you can see the flag clearly with the use of street light, house lights, or a flagpole light, you may display the American flag at night. Otherwise, you should bring the flag in at dusk and put it out again in the daylight.
You can learn more about properly displaying the American flag outdoors here.
Have Other Questions About Flag Lighting?
If you're wondering about other aspects of lighting a flag, don't hesitate to ask! We are passionate about flag etiquette and love helping our customers create flag displays that help them fly their pride while adhering to established flag guidelines.
Be sure to check out our flag resources page for everything you need to know about displaying flags, caring for flags, retiring flags, and more.
Can't find the answer to your flag display question? Give us a call at 1-888-697-3524 or contact us online and we'd be happy to assist you!