Half-Staff Alerts
Half-Staff Alerts
Gettysburg Flag Works is your source for flag etiquette and half-staff information.
To subscribe to email alerts, Click here and enter your personal preferences.
2018 American Flag Half-Staff Calendar
We are very happy to provide this year's version of the GFW American Flag Half-Staff Calendar.
The half-staff calendar highlights the 2018 half-staff dates and also provides a reminder of protocol, including how long your American Flags should fly in various half-staff scenarios.
The half-staff calendar also provides a great means to have a more permanent reminder of annual half-staff dates – to hang in your office, kitchen, or wherever might be most convenient for you.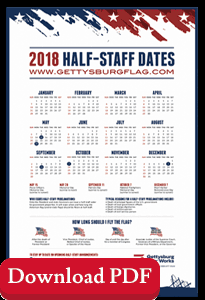 Click on the image for a full size, printable, pdf file of this calendar. It prints best on legal sized paper but can be scaled for letter paper as well.
Of course there are additional half-staff dates that are added throughout the year on both a state and nationwide basis. We will provide you with these important notifications as soon as we obtain each official proclamation.
We understand how important this information is for American flag owners and take pride in disseminating the notifications in a manner that is both professional and timely.
Be sure that you are subscribed to our half-staff alert list and join us on social media to see the alerts via Twitter & Facebook.
Know an American flag owner that could benefit from this information? – please share and invite them to sign up as well.