Flagpole Delivery & Installation Resources
Flagpole Selection, Delivery & Installation Resources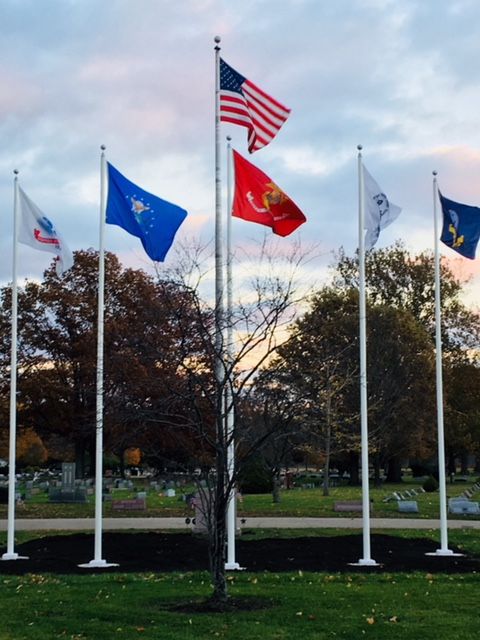 How Tall Should My Residential or Commercial In-Ground Flagpole Be?
Most residential poles are 20' or 25' tall, but you can go larger based on your needs and wants.
A general rule of thumb is to approach or reach the roofline of the home, but this rule is complicated by pole placement (are you putting on a hill or down below in a valley?) and proximity to structure (closer to the home looks different than farther placement).
Commercial poles run the full spectrum, from 20' all the way to 100+ foot tall.
Which Flagpole Material Is Right For Me?
You have a couple of options when it comes to in-ground flagpole materials. The material you choose should be based both on the aesthetic you're going for, as well as the practical applications of your flagpole - specifically what you're planning to use it for, where you're located geographically, and the conditions the flagpole will be exposed to. Budget will likely be a factor as well.
Here are a few important details to consider about aluminum and fiberglass flagpoles as you're exploring your options.
Aluminum :

Silver or Custom Powder-Coated
Internal or external halyard
Gold ball or eagle topper
Won't rust

White or Custom Powder-Coated
Internal or external halyard
Gold ball or Gold "onion" shaped topper
Won't conduct electricity
Won't corrode in any weather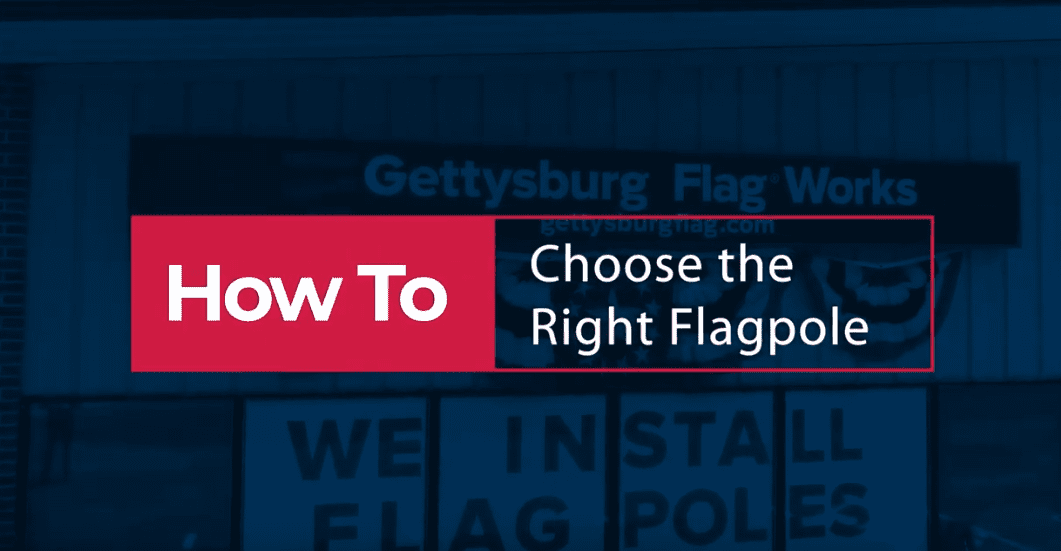 Looking for additional insight about flagpole selection? Check out our guide to selecting a flagpole, which includes an informative how-to video about choosing the right flagpole for you, here.
Interested in information specifically related to residential in-ground flagpole options? Learn all that you need to know about our available residential in-ground flagpoles here.


What Should I Expect When It Comes to In-Ground Flagpole Delivery?
It's not everyday that you have a flagpole delivered to your home or business. Here are a few key things to know as you're preparing for the delivery of your new flagpole:
The freight company should call you to arrange delivery within a window of time. They generally call you at least 24 hours ahead of time to schedule the delivery window.
The freight company is under no obligation to assist in unloading the flagpole, so make sure you have help available if needed.
Once the driver arrives and you begin unloading the flagpole, you must inspect the packaging and pole for any sign of damage.
You should inspect the shaft and accessories very carefully for any sign of damage.
If any damage to the shaft is noted it is recommended that you reject the shipment and contact us to arrange delivery of a new pole.
If the damage is minimal and you decide to accept delivery, you must note the damage on the carriers bill of lading paperwork so that it is documented.
If the accessory kit is damaged in any way please accept delivery, note the damage on the bill of lading and contact us for a replacement to be sent, free of charge.
We do not recommend storing the flagpole in the cardboard tubing in an outdoor environment. The cardboard does not handle moisture well and the wet cardboard will stain your flagpole. If you need to store the pole outdoors we recommend removing completely from the cardboard and storing in a safe secure area.
HOW DO I SELECT A SITE FOR MY FLAGPOLE?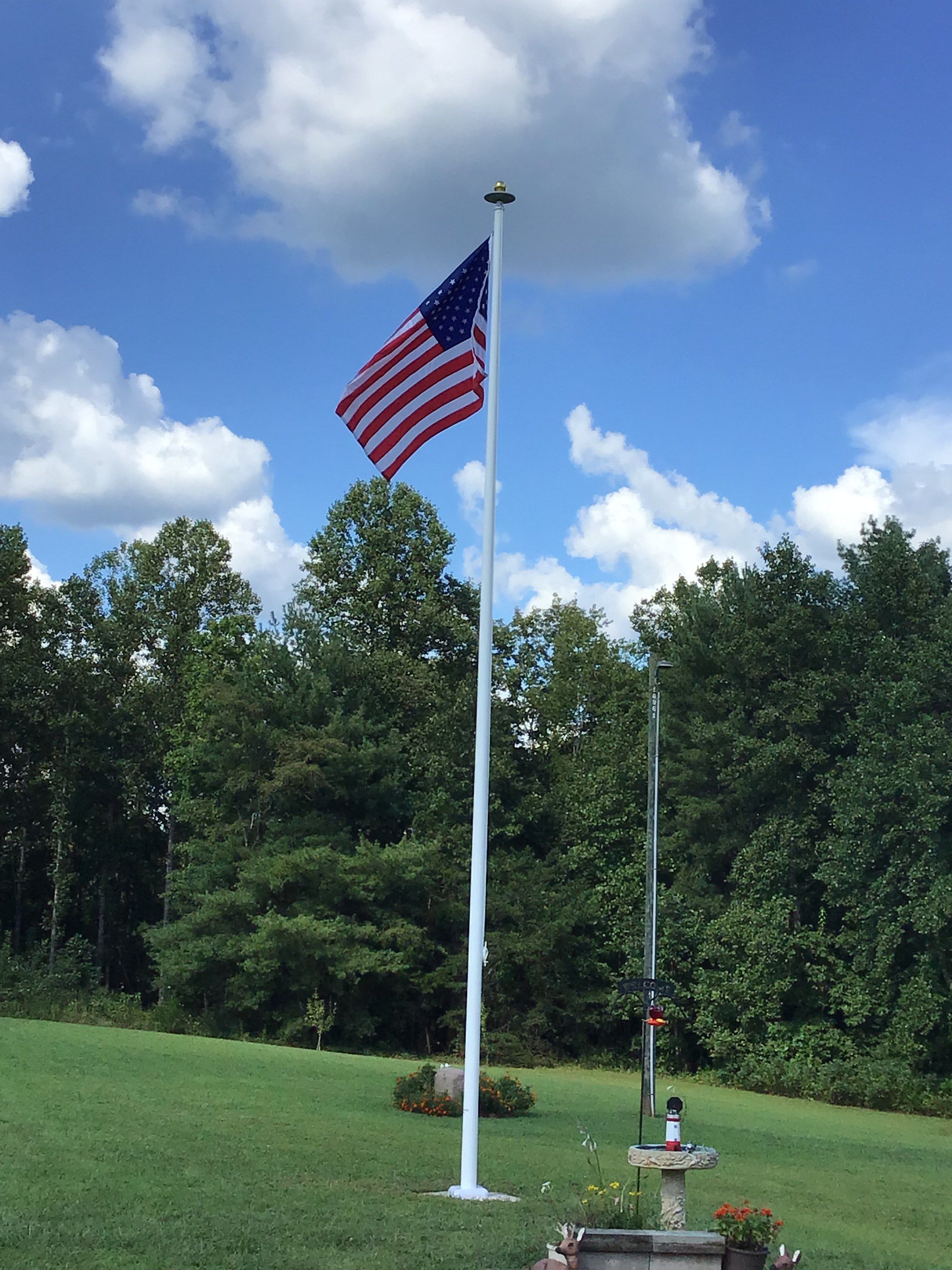 Each customer has a unique property and different display needs so there is no perfect place to suggest for pole placement. There are some general rules to follow when possible that will cover at least practical concerns.
Be mindful of any overhanging wires, buried utilities and nearby structures or landscaping. You need to make sure you give yourself enough room for the flag to rotate freely around the pole without encountering any encumbrances. When placing near a building, make sure you allow for generous spacing to allow the flag to fly clear, even when at half-staff.
When preparing the site, you want firm, well drained soil if possible. Avoid loose soil, as the foundation is more likely to shift if surrounding soil is prone to movement or is recently disturbed.
When in doubt contact your construction professional or contractor for assistance in determining an appropriate site.
Prior to beginning your installation process, it is important to dial 811 - Dig Safe to have your public utilities identified and cleared. Depending on your state this process can take up to 2 weeks, so make sure you allow time for the utilities to clear your selected dig location.
INSTALLATION INSTRUCTIONS
Depending on the type of pole that you purchase, installation instructions will vary. Choose below from our catalog of detailed installation guidelines based on your style of flagpole.
Aluminum Ground Set External: Download HERE
Aluminum Ground Set Internal Rope - Cam Cleat: Download HERE
Aluminum Ground Set Internal Wire - Winch: Download HERE
Fiberglass Ground Set Internal: Download HERE
Fiberglass Ground Set External: Download HERE
Fiberglass Hinge Base: Download HERE
The Gettysburg Flag Works Team Can Install your Flagpole for you!
If you live in the area and would like us to install your flagpole for you, give us a call at 1-888-697-3524 or send us a quick message.
We typically operate within the radius shown on this map.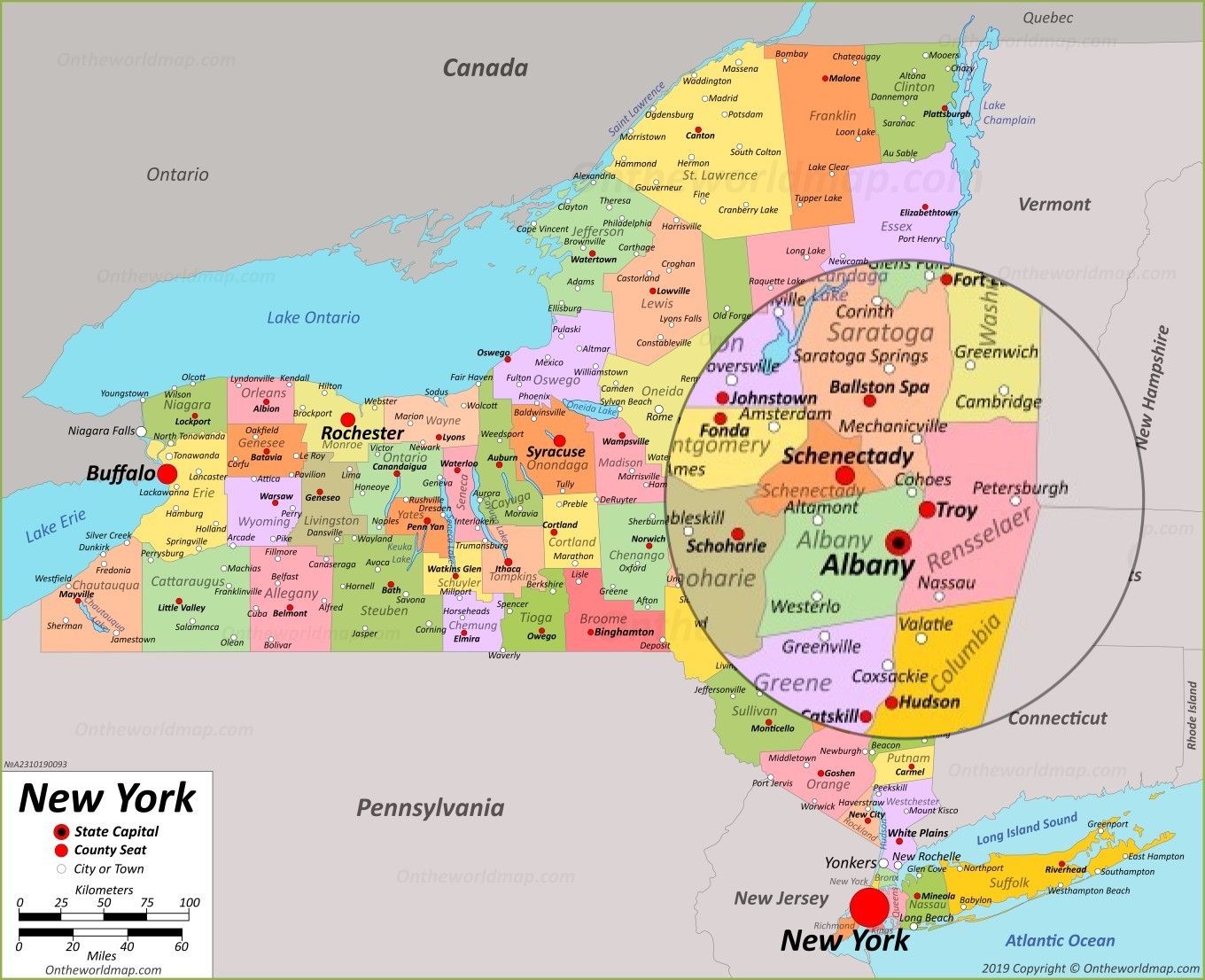 >
Have Additional Questions About Selecting an In-Ground Flagpole, Flagpole Delivery, or Flagpole Installation?
At Gettysburg Flag Works, we're passionate about everything flag-related - and that includes ensuring that you have the right flagpole in place to display the flags that matter to you. Our experts can help you select a flagpole, guide you through the delivery and installation process, and answer any questions you have along the way.
Don't hesitate to get in touch with us! Give us a call at 1-888-697-3524 to discuss your in-ground flagpole needs or contact us online and we'll get right back to you with the information you're looking for!