Easy Order Fiberglass Flagpole 20'
20' White External Halyard Fiberglass Flagpole
Hardware Included
3x5' BATTLE-TOUGH American flag
Installation Instructions Included
Rated for 170 miles per hour winds (with flag) or 210 miles per hour (without flags)
Coupons are not accepted for this product
* SHIPPING INFORMATION *
This flagpole is currently shipping in approximately 3-4 weeks
This item ships separately by common carrier which is ground shipment only - flagpoles can not be expedited
If purchasing only this product, please choose the free shipping option in the checkout process. If you want to expedite any OTHER items in your cart, choose from the other shipping options
A daytime phone number and accurate shipping address is needed for proper delivery. A change of address may require an additional charge
Upon delivery, please inspect pole for damage and remove cardboard to avoid staining

Any damage MUST be noted at the time of delivery and immediately reported to Gettysburg Flag. Once a pole is accepted, Gettysburg Flag is not responsible for addressing any damage.

The included shipping cost is based on standard residential and standard commercial addresses only. "Non-standard" deliveries will require a shipping surcharge. This includes (and is not limited to) deliveries to: rural/island locations, cemeteries, schools, military bases, prisons, active construction sites, farms, golf courses and amusement parks.
Should you need to return or exchange this item, a separate shipping cost will apply.
Details
20 Foot In Ground Fiberglass Flagpole
Our residential fiberglass flagpoles are durable and affordably priced, making them a great choice if you are in the market for a new in-ground flagpole for your home. Whether you're planning to display an American flag, a military flag or any other type of flag outside your house, this fiberglass flagpole will not disappoint!
Fiberglass flagpoles from Gettysburg Flag Works are built to last, constructed of high quality materials and sturdy enough to withstand heavy winds. They come complete with necessary hardware as well as a Battle Tough American flag and can be shipped directly to your home.
In addition to our 20 foot fiberglass flagpole, we also carry 20 foot aluminum flagpoles as well as a variety of other in ground residential flagpoles! Browse our selection to find the right flagpole for you.
At Gettysburg Flag Works we take pride in providing high quality flags, flagpoles and flag hardware for our customers. If you are in the market for a new outdoor residential flagpole, we've got you covered! Give us a call at 1-888-697-3524 or with any questions, then place your order today!
Fiberglass Flagpole Specifications
20' white fiberglass flagpole. Single-piece construction with an external halyard and gold ball.
Hardware included: Gold Ball, Fiberglass Truck, Halyard, Snaps, Ground Sleeve, Cleat.
3x5' BATTLE-TOUGH American flag
Installation instructions included
Rated for 170 miles per hour winds (with flag) or 210 miles per hour (without flags)
* SPECIAL NOTES *
Shipping included to most locations within the continental USA.
Some deliveries such as rural and island locations may require a shipping surcharge.
Coupons are not accepted for this product.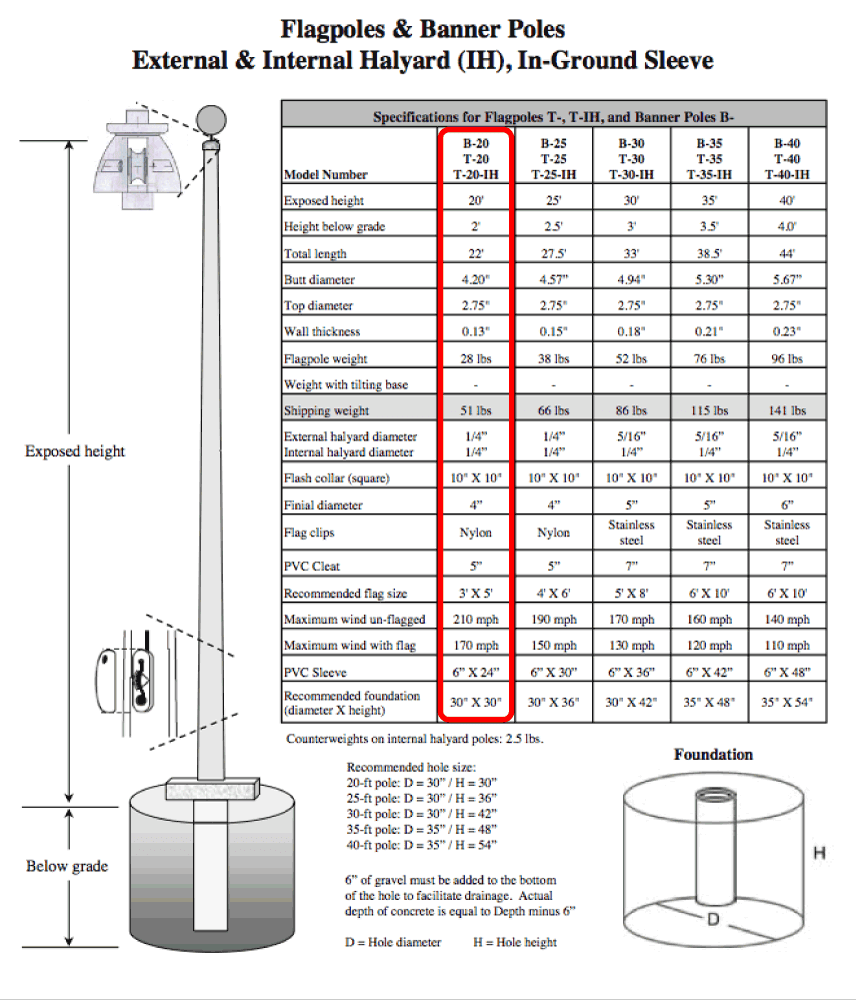 Questions (0)