Only %1 left
SKU
ConfigAlumSpinningPole
Our most popular flag pole for homeowners!
There is nothing to rust or rot and your flag rolls right around the pole with the wind. Ball bearings inside the pole keep your flag from tangling.
Pole is 1" in diameter and has a metallic coated plastic ball top
Pole comes with a clip and washer for sleeved flags & ring attachments for header & grommets flags.
Select from 5' and 6' in size and multiple finishing options available.
*This pole works with 3x5' and smaller flags
This item is imported.
Details
Aluminum Spinning Flagpole Prevents Tangling
This is our #1 Flagpole for Homeowners, and for good reason! Made of aluminum, it will not rust or rot, and the spinning mechanism prevents your flag from getting wrapped around the pole. Your flag, and the pole, just spin freely in the wind. No more tangled flags!
Choose from our 5-foot spinning flagpole in a silver or white finish, or our 6-foot anti-wrap flagpole in oak, white or silver. All of our aluminum spinning flagpoles also include a coordinating ball finial.
Looking for an in-ground spinning pole? See our 9 foot Oversized Non-Tangle Flagpole.
How to Mount Your Flag to our Anti-Wrap Flagpole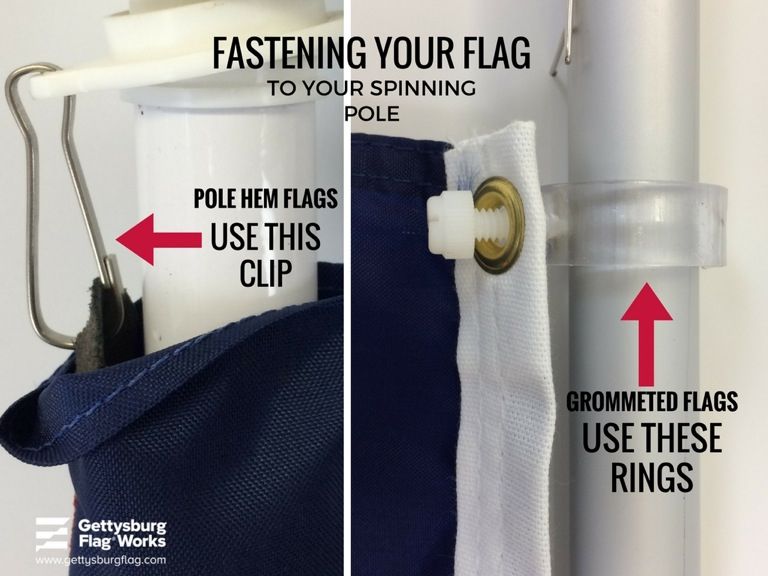 We include two types of hardware, a clip for flags with a sleeve, and rings and screws for grommeted flags, so this tangle-free flagpole can be used with both.
Grommeted Flags: Attach each grommet to the spinning flagpole with the included clear plastic rings and screws. Simply remove the screw from the ring and slide the ring onto the flagpole. Then slide the screw through the grommet and tighten the screw into the ring against the flagpole. (You will not need the included clip).
Flags with Sleeves: Remove the clear plastic rings and screws. (You will not need these.) Slide your flag sleeve up the pole from the bottom to the top. Find the buttonhole/tab inside your pole sleeve. Pinch open the clip located at the top of the tangle-free flagpole and slide the flag's buttonhole/tab onto the clip. This will secure the top of the flag to the pole and allow it to spin freely, while the bottom of the flag will stay down on its own.
How to Order Our Tangle-Free Aluminum Flagpole
Our aluminum spinning flagpole is an in-stock item that can easily ordered online. Simply use the dropdown menu to select the pole length, followed by the metal finish, and then the finial.
For assistance or questions, you can contact us online, or use our Live Chat feature during business hours. You can also call us at 1-888-697-3524 to place an order by phone.
Questions (0)