Custom Club & Organization Flag Portfolio
Organizations are all different and so are their flag and banner needs. Some clubs require a podium banner or presentation flag for club meetings while others need stick flags or marching banners for use in a parade. Many need vinyl banners to show off sponsors or advertise events.
No matter what type of flag your club or organization needs, we have you covered here at Gettysburg Flag Works. Our quality and selection makes us a top choice for clubs and organizations of all sizes and types.
Flip through the images to see some of our previous jobs and to get ideas for your project. If you don't find what you are looking for, please contact us. Our production team is famous for making that specialty item that you've dreamed up!
Details
Custom Flags for Clubs, Organizations & Community Groups
From school clubs and Girl Scout troops to Veterans groups and the Ancient Order of the Hibernians, we specialize in crafting high-quality custom flags and banners for all types of clubs and organizations. In fact, Gettysburg Flag Works is one of the leading suppliers of custom AOH banners and sashes in the U.S.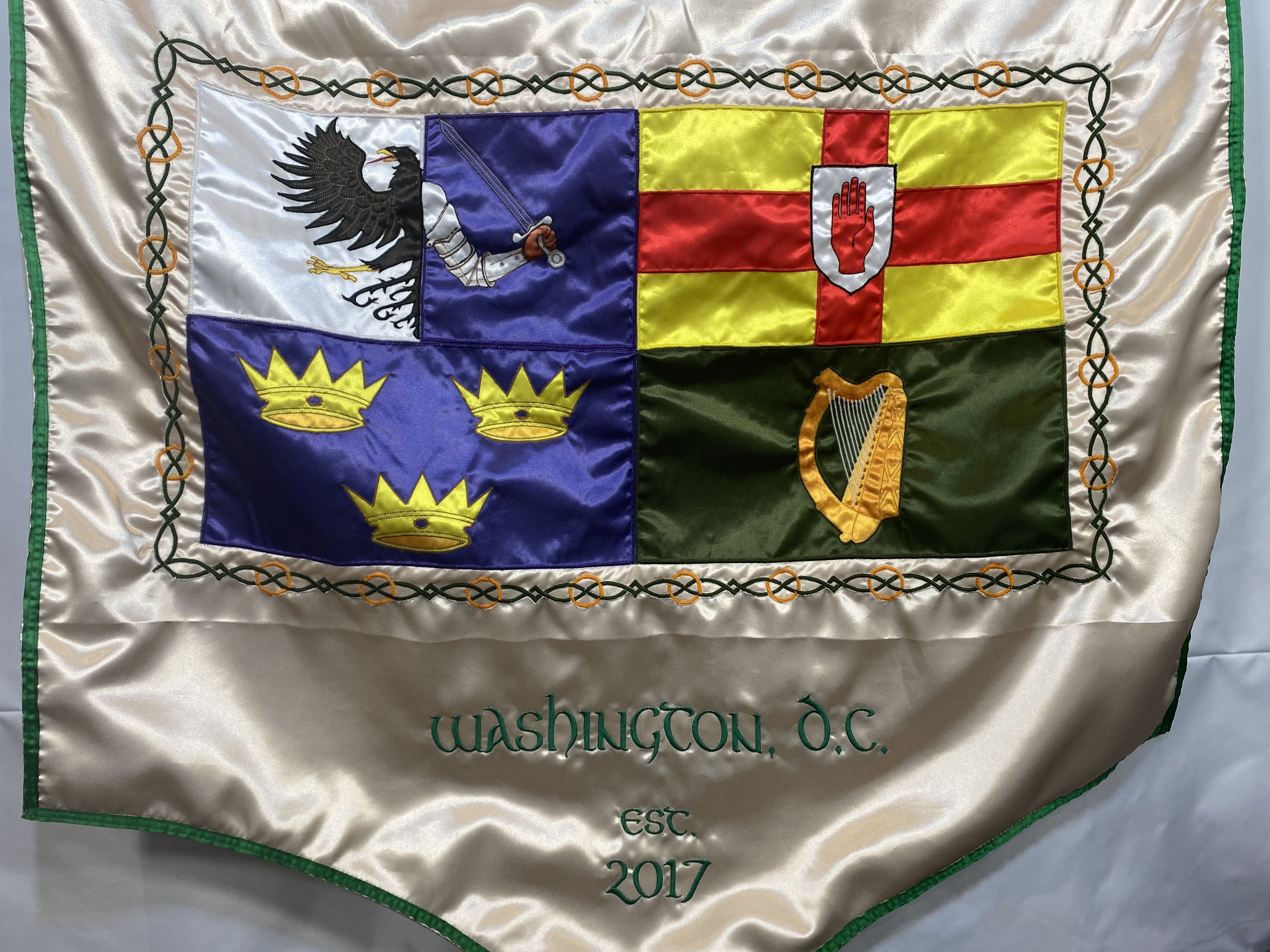 Types of Custom Club Flags
All of our custom club flags are affordably-priced and made of high-quality materials. We specialize in both indoor and outdoor flags in all sizes and styles, including pennants, vertical gonfalons and parade banners. We also offer your club the choice of full-color digital printing or fully sewn applique and embroidered flags, and a variety of materials, such as durable all-weather nylon, cotton, polyester, vinyl and satin. We can even match the pantone colors of your club or organization's logo.
We have created custom club flags for Masonic organizations, Girl Scout and Boy Scout troops, Veterans groups, motorcycle clubs, professional organizations and associations, Elk lodges, the Knights of Columbus, and literally hundreds of other auxiliary clubs and local community groups.
Club Flag Custom Design
You have the option to provide your own design and artwork files, or work with our graphic designers to create a truly custom-designed flag for your organization. Our team will work closely with you throughout the design and production process to make sure the end product is the custom flag you envisioned to represent your club.
Need some ideas? Browse our portfolio of completed projects for inspiration you can use when creating your own custom club flag.
How to Order a Custom Club Flag
Designing and ordering a custom club flag has never been easier! You can request a quote online by simply selecting the custom product of your choice and uploading your artwork with any additional details or notes. We'll then review your request and do our best to provide a quote in one business day.
You can also contact us online or use our Live Chat feature during business hours, and we're always happy to answer any questions you may have or walk you through the process over the phone. Just give us a call at 1-888-697-3524.
Questions (0)
Reviews