Only %1 left
SKU
ConfigCodeSignalFlagSets
Marine grade nautical code signal flag sets from Gettysburg Flag Works. Quality. Dependable. Tough. USA Made.
Our code signal flag sets include the complete signal flag alphabet, along with numeral pennants and substitute pennants.
This complete 40 code signal flag set includes:
26 alphabet flags
11 numeral pennants
3 substitute pennants
Additionally, all 40 flags are:
double lock stitched
constructed of a nylon fabric specifically designed to dry quickly
Various sizes are available and come complete with choice of nylon rope distance lines with ash toggle, brass snaps and rings, or canvas heading and brass grommets.
Some sizes have a lead time of up to 6 weeks. 
Details
Code Signal Flag Sets
Code signal flags are a key method of communication on ships and vessels, and have been for centuries. Despite the development of modern communication technologies like phones, radios and the internet, the signal flag alphabet is still commonly used on ships. While these nautical code flags are sometimes still used to convey information quickly, they are often used in a decorative capacity as well in this day and age.
Signal Flag Alphabet
A signal flag alphabet is a collection of flags representing the alphabet that enables sailors and others on ships and large vessels to communicate with those around them. As mentioned previously, code signal flag sets are also used for decorations on ships. As such, they are popular both for practical and ornamental purposes.
Nautical Code Flag Set Options
Looking for a nautical flag set for your vessel? Look no further! If you're interested in obtaining a signal flag alphabet for a competitive price, you've come to the right place.
We carry code signal flag sets in a variety of sizes. You can find further details about sizing and what is included in the sets we offer here:
Signal Flag Alphabet Set Specs
Size 0
26 alphabet flags: 1' x 1' 3"
11 pennants: 8" x 2'
3 Substitutes: 8" x 1' 4"
Size 2
26 alphabet flags: 1' 6" x 2'
11 pennants: 1' 4" x 3'
3 Substitutes: 1' x 2'
Size 3
26 alphabet flags: 2' x 2'
11 pennants: 1' 4" x 3'
3 Substitutes: 1' 4" x 2' 4"
Size 7
26 alphabet flags: 3' x 3'
11 pennants: 2' x 4' 6"
3 Substitutes: 2' x 4'
Size 10
26 alphabet flags: 4' x 4'
11 pennants: 2' 8" x 6'
3 Substitutes: 2' 8" x 5' 4"
Size 14
26 alphabet flags: 4' x 6'
11 pennants: 2' 8" x 9'
3 Substitutes: 2' 8" x 5' 4"
Order Your Code Signal Flag Set Today!
Have questions about ordering code signal flags from Gettysburg Flag Works? Give us a call at 1-888-697-3524 or and we'd be happy to assist you!
Don't need the whole signal flag alphabet for your ship or yacht? We have individual code signal flags and pennants available here.
Looking for more details about dressing a ship with nautical code signal flags? Find information about displaying the signal flag alphabet on a ship here.
Curious about when to display certain flags on your vessel? Check out the graphic below for a quick look at important dates related to dressing ships with the signal flag alphabet.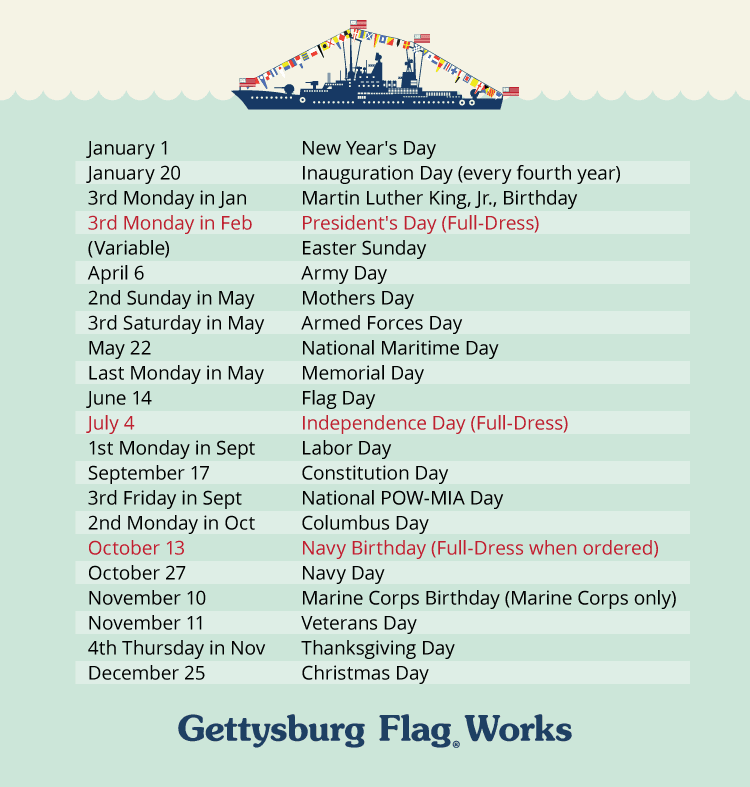 Questions (0)
Reviews