Custom School Flags & Banners Portfolio
Build pride in your school, show school spirit, and promote your school identity for all to see.
A flag or banner, customized with your school mascot can help with these goals. Gettysburg Flag Works staff would love to help you with the perfect school flag for your flagpole or next event.
Call us at 1-888-697-3524 to talk to a representative about your needs.
Ready to take the next step? Request a quote for the school flag or banner you're envisioning below!
Details
Custom School Flags and School Banners
Gettysburg Flag Works has been designing and producing custom school flags and school banners for more than 20 years.
With so many options to choose from, we're sure to have what you are looking for. School flags are a great way to build pride in your school, show school spirit and to promote your school in the community.
Traditional School Flags
School flags can come in many different sizes, shapes and colors. The more traditional school flag is 3x5 inches with a 3 inch sleeve for mounting. They are typically constructed of nylon or polyester material and are single-sided. Custom school flags can also be single-sided with a reverse image on the back. To embellish your school flags or school banner, you may also choose to add gold fringe on three sides. The school flags (with gold fringe) are for indoor use only. Most are digitally printed, however to incorporate a high end look and feel we also offer hand sewn applique for school flags and banners.
Banners for Primary Schools, Secondary Schools, Colleges & Universities
School banners are also very popular for primary/secondary schools, and colleges and universities. We also do a large amount of work for fraternities and sororities. We offer a variety of options when it comes to the design and construction of the school banners.
Gonfalon School Banners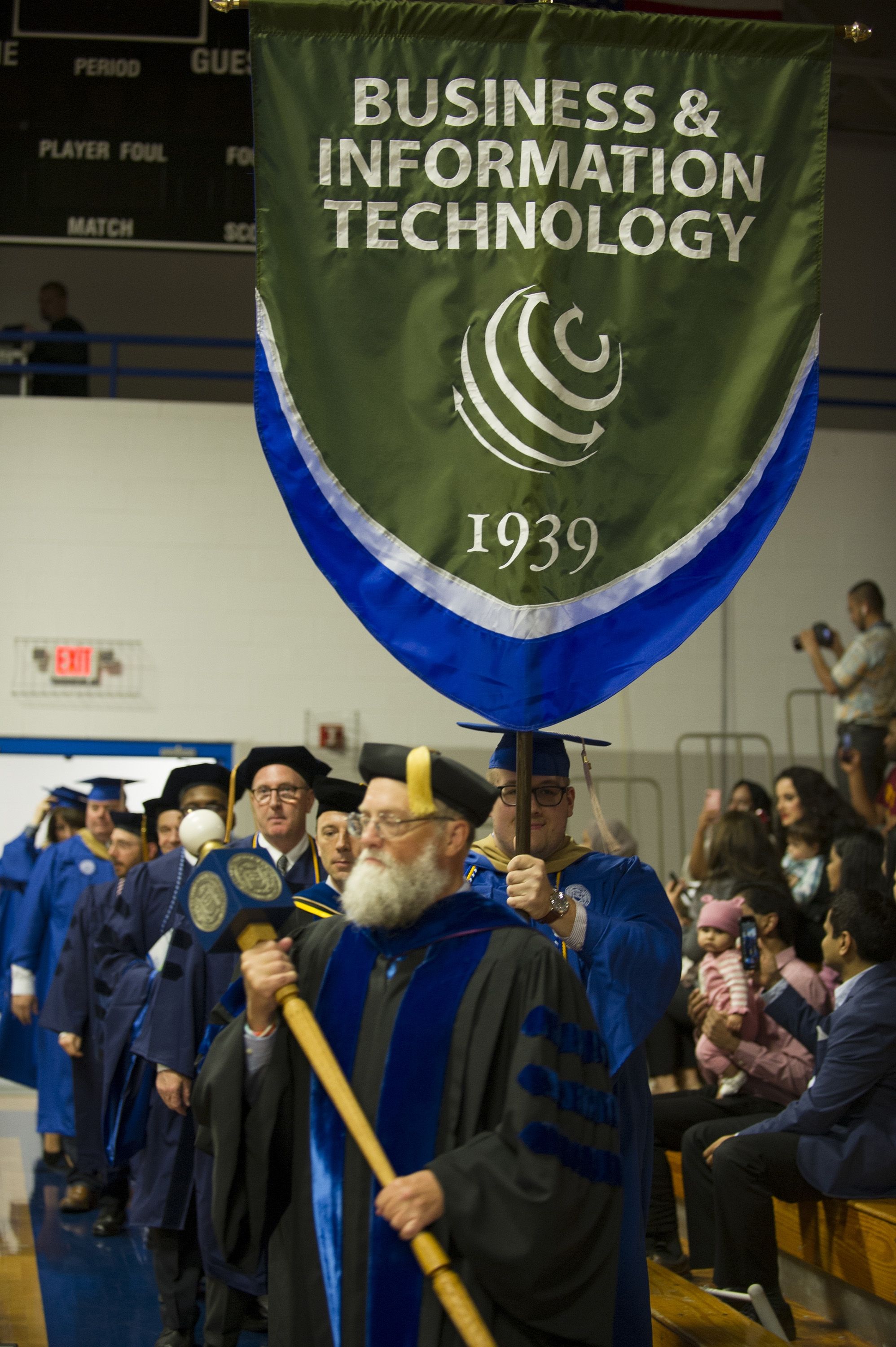 The gonfalon school banner is used for graduation processions, reunions or to simply leave hanging in the main entryway or corridor of the school. The gonfalon school banner can be double or single-sided. As one example, the double-sided gonfalon can have the school name on one side and a seal on the other. The choice of design for your school banner is completely up to you. You may also choose to solicit the advice and guidance of our on-staff graphic design and production team. We are always happy to help.
Marching Banners, Championship Banners & More
Other popular school banners are the marching banner, championship banner, sports banner and homecoming avenue banners. A marching banner is typically 4x10 feet and single-sided with a 3 inch pole sleeve across the top. A championship or sports banner comes in a variety of sizes, is single-sided and is generally printed on adhesive vinyl. Homecoming avenue banners are double-sided with a pole sleeve on top and bottom for mounting. These school banners can be printed on a heavy duty marine canvas, to hold up outdoors. Homecoming avenue banners are a great choice of school banner to welcome alumni and the community, and to build school pride.
School Flag & Banner Customization
All custom school flags and school banners are customized with your specific design. This can include, but is certainly not limited to, school names, emblems/seals, school mascots, rally expressions, championship statistics, etc.
Gettysburg Flag Works staff would love to help you design and create the best school flags and school banners that meet your needs and exceed your expectations. Have questions? Give us a call at 1-888-697-3524 or and we'd be happy to assist you!
Products related to custom school flags
If purchasing custom school flags, you should also consider flag holders. For outdoor use, we have a wide selection of flagpoles and all the associated flagpole hardware and accessories you'll need to get your flag up and flying. For indoor use, we have various types of indoor flagpoles, flag mounts and flag brackets as well.
are also popular among schools and educational institutions and nicely complement customized school flags and banners.
Curious what other flags, banners, or flag-related products will help your school look its best? and we'd be happy to make some recommendations!
Questions (0)
Reviews