Memorial Day Flag Etiquette & Protocol
Memorial Day Flag Etiquette & Protocol
Memorial Day is widely celebrated as the unofficial start of summer but what the day truly celebrates and acknowledges is something much more meaningful and patriotic.
Established as an official federal holiday in 1971, Memorial Day is a holiday that celebrates and recognizes the soldiers who have given their lives in the line of duty defending the USA. The day takes place on the last Monday each May.
Though it is celebrated around the country, Memorial Day is thought to have originated in Waterloo, New York, which the US government acknowledges as the birthplace of this important holiday. You can learn more about the background and history of Memorial Day here.
Given the important historical and patriotic significance of Memorial Day, it should come as no surprise that there are specific Memorial Day flag etiquette guidelines and rules that must be followed! Here, we'll review Memorial Day flag protocol so you can be sure you're flying your flags correctly.
Memorial Day Flag Protocol
Flag etiquette on Memorial Day is unique. At sunrise, flags are to be raised to full staff briskly, then lowered to half staff position where they will remain until noon.
If you are unsure how to properly lower your flag to half staff, watch this short how-to video
At noon, flags are to be raised to full-staff and will be displayed there for the remainder of the holiday.
If you are unable to display the flag at half staff on Memorial Day, proper flag etiquette requires that you display your flag with a black mourning ribbon to show respect and acknowledge the somber meaning of the day.
Honoring Veterans on Memorial Day
Besides following appropriate flag etiquette on Memorial Day, there are a number of other ways you can show your respect and gratitude for loved ones and those who gave their lives for our country.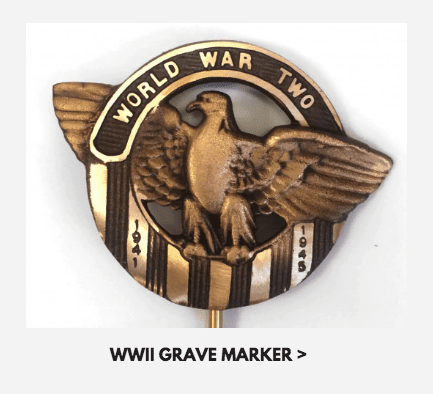 Grave Markers
Military grave markers are a terrific way to acknowledge and honor those who served our country and have been laid to rest. They come in a variety of styles and are often decorated with military branch seals. Some are designed to hold flags as well. These grave markers are a meaningful way to commemorate a loved one's service.
Browse our selection of military grave markers here.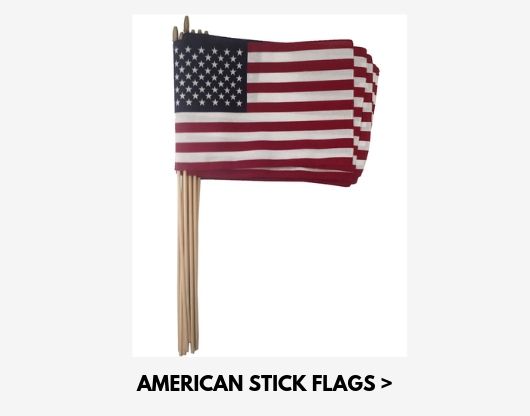 Stick Flags
Stick flags are popular on many patriotic holidays, but they are a great option when it comes to celebrating Memorial Day. Whether you plan to hand them out at a parade, decorate with them for your holiday weekend picnic, or place them in grave markers alongside veteran's graves at the local cemetery, stick flags are a must when it comes to decorating for Memorial Day!
Check out our collection of American stick flags here.
Memorial Cases
Displaying a flag in a memorial flag case is a great way to celebrate and commemorate the life of a veteran - especially on Memorial Day. These cases are designed to be placed on a mantel or shelf, or hung on a wall to showcase burial flags. They come in a variety of styles and can be customized with an engraved name plate for an even more personal touch.
View our variety of memorial flag display cases here.
Memorial Day Parades
Many communities acknowledge Memorial Day with local parades. Attending or participating in a Memorial Day parade is a great way to celebrate the holiday and recognize the men and women who made the ultimate sacrifice to help our country become the great nation it is today.
Looking for the gear you need to march in this year's Memorial Day parade? We've got you covered! From American flags and parade flagpoles to custom parade sashes and parade banners, we do it all!
Display Your Flag Properly & Celebrate Memorial Day In Style
Memorial Day is a great time to show your pride for your country, and at Gettysburg Flag Works we're here to help you do just that. Shop our extensive selection of Memorial Day flags and products here.
Have questions about Memorial Day flag etiquette or can't find the patriotic product you're looking for? Give us a call at 1-888-697-3524 or contact us online and we'd be happy to assist you!
Popular Resource Pages
Popular Product Pages