In-Ground Commercial Flagpoles
Heavy Duty Commercial Flagpoles
Big buildings and giant American flags call for large, industrial grade flagpoles. The weight and wind drag of a large American flag puts a lot of stress on a flagpole! It's important to get a heavy duty flagpole that is made and rated for your location and purpose if you want your flag to fly proudly and securely.
Gettysburg Flag Works is proud to offer commercial flagpoles for purchase, as well as the expertise to either install or assist with the flagpole installation. We also offer all of the necessary flagpole hardware and accessories to make your new flagpole look great! We're your one stop shopping resource for everything you need when it comes to commercial flagpoles.
Check out this commercial flagpole installation!
Large Aluminum In-Ground Flagpoles
Aluminum is the preferred choice for most commercial flagpoles. Aluminum flagpoles are available in stock sizes up to 100' and can be made larger as needed. Commercial flagpoles are made to withstand high winds and heavy flags, as well as to be secure from theft. Internal halyard flagpoles are theft resistant and come with one or two halyards for displaying more than one flag at a time.
Interested in learning more about an aluminum commercial flagpole? You can find more details about in-ground aluminum flagpoles here, or call us at 1-888-697-3524 or contact us online for help choosing an in-ground flagpole that suits your local wind ratings.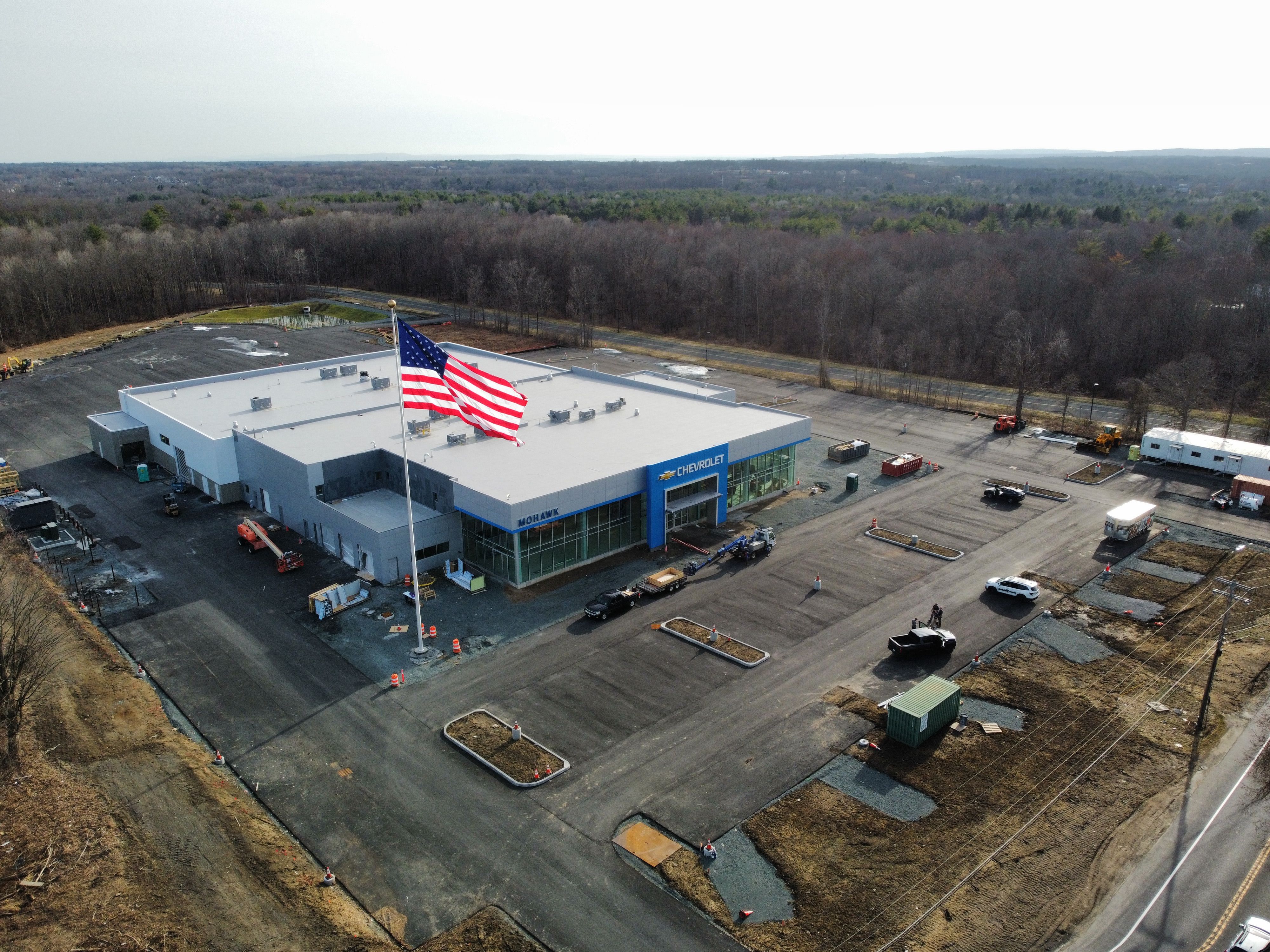 Commercial Fiberglass In-Ground Flagpoles
Fiberglass is another beautiful option for large flagpoles. Fiberglass is a smooth, strong material that can be custom colored. Fiberglass is a great option for a lightweight pole that can handle salt air and corrosive atmospheres without changing color or functionality.
Looking for more details about fiberglass flagpoles? You can learn more about our fiberglass in-ground flagpoles here. Have questions? Contact us online or give us a call at 1-888-697-3524 and we'd be happy to provide additional information.
In-Ground Flagpoles for Advertising
An overlooked style of commercial flagpole is the advertising flagpole. This type of pole is often a temporary display that holds advertising flags near the road to catch attention to a business or even. Gettysburg Flag Works is proud to offer several sectional or telescoping flagpoles are available to suit your needs. This is a perfect solution for a grand opening, huge sale or outdoor event.
Think an advertising flagpole might be just what you need? Learn more about our telescoping commercial flagpoles here. We also carry a wide variety of business and promotional flags, including feather flags and custom flags for businesses, to create a striking display.
Items related to Large In-Ground and Commercial Flagpoles
At Gettysburg Flag Works, we pride ourselves on being a one-stop shopping resource for our customers. We carry a wide variety of flags and flag equipment, including flagpole accessories, to keep your flag displays in good working order!
Those who have purchased commercial flagpoles from us are often interested in the following products as well.
Have questions or need help identifying what type of large in-ground flagpole best meets your specific needs? We'd be happy to assist you! Just give us a call at 1-888-697-3524 or contact us online and we will point you in the right direction!