Memorial Day
By Cheryl Rings
Memorial Day was originally called Decoration Day and although there are many conflicting stories on it's beginnings, most of them agree that it began as a day set aside to honor the soldiers who had fallen in service during the civil war.  Dates and specific groups of soldiers are what separates many of the stories.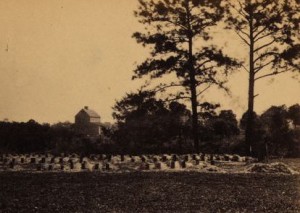 One of those stories comes from Charleston, South Carolina.  The event was held by former slaves at the Washington Race Course in Charleston, SC, where there was a Confederate prison camp and mass grave for Union soldiers. In only ten days, the people built a fence around the graveyard so that they could call it a Union graveyard. On May 1, 1865, nearly ten thousand people gathered at the graveyard for a ceremony that included singing, picnics, and sermons. The Charleston paper declared it Decoration Day.
Memorial Day became official on May 5th in 1868 when it was proclaimed by General John Logan, the national commander of the Grand Army of the Republic.  It was first observed on May 30th of that year and flags were placed on Union and Confederate soldiers graves at Arlington National Cemetery.
New York State recognized it in 1873 and the rest of the northern states were celebrating it by 1890.
It wasn't until after WWI that the southern states started recognizing Memorial Day.  It was then that the day was used to recognize American's who died fighting in any war, not just the Civil War.
Today Memorial Day is celebrated on the last Monday in May ensuring a 3 day weekend for everyone getting Federal holidays.  On this day soldiers, boy scouts and others will place American flags at the graves of soldiers across the country.  It is also a day to hold parades and memorial services and spend time with loved ones.
Observance of Memorial Day waxes and wanes with the patriotism felt in current American culture.  Events such as the 9/11 attacks on American soil will boost patriotism and seem to unify the country which also brings more awareness to our fallen heroes. During times of plenty and relative peace Memorial Day celebrations will be smaller and many veteran graves will go without American flags as most people will be enjoying a day at the pool or picnicking.
On Memorial Day the United States Flag is raised briskly to the top of the staff and then solemnly lowered to the half-staff position, where it remains only until noon.  At noon the flag is raised to full-staff for the remainder of the day. The flag at half staff shows that the country mourns those who were killed.  When the flag is raised to full staff it is in celebration of our American heroes still serving.
Do you want to do more this Memorial Day?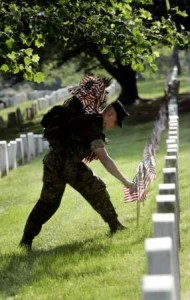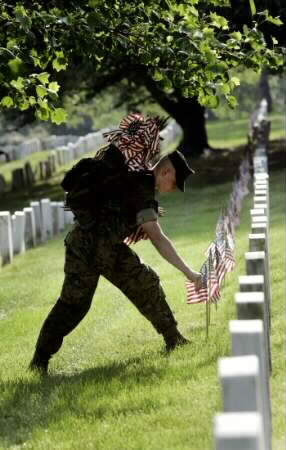 Sources: