Navy museum salutes flags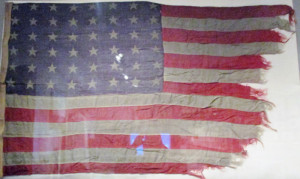 Every year, more than 100,000 people tour the U.S. Naval Academy Museum in Annapolis, Maryland. Its website notes that there are "exhibits about the history of seapower, the development of the U.S. Navy, and the role of the U.S. Naval Academy in producing officers."
In addition, the museum houses a treasure trove of historic flags.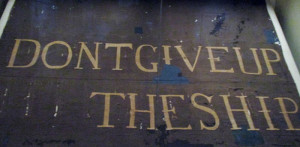 An example is a flag with a famous saying on it from the War of 1812 – "Don't Give Up the Ship." The banner was created a year later "to inspire American sailors going into battle," the museum notes. The banner's "patches and wear…document a long…history that, for many years, lay hidden behind a blue covering."
The quotation was spoken by a dying naval officer, Captain James Lawrence. His friend, Oliver Hazard Perry, adopted the saying and had it stitched onto a flag.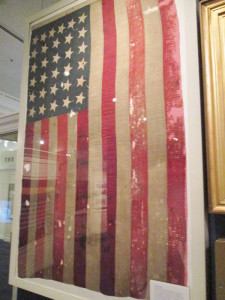 Also in the museum's collection is a 31-star flag, which was probably hand-made by a sailor when word reached his ship that a state had been added to the Union: California in 1850. That news reached the ship months later since the vessel was cruising near Japan at the time.
In 1942 in the Pacific, the Battle of Tassafaronga allowed New Orleans, a cruiser, to show how to take a punch to protect another ship, Minneapolis, that had been slowed by several torpedoes launched from Japanese vessels. New Orleans maneuvered into harm's way and was hit with such force by a torpedo that its bow was shoved backwards.
The crew took a very unusual step to save their ship. According to the museum, "a temporary bow…fashioned out of coconut logs enabled the cruiser to reach Australia for repairs."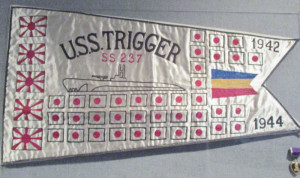 During WWII, a submarine named USS Trigger achieved success after success, as witnessed by its battle flag, which is dotted with small Japanese flags to represent vessels Trigger had sunk in the Pacific. But its luck ran out shortly before the end of the conflict, when the American sub was sunk by Japanese planes dropping depth charges.
A Purple Heart medal, which is displayed in the photo below the battle flag, was given posthumously to the entire crew.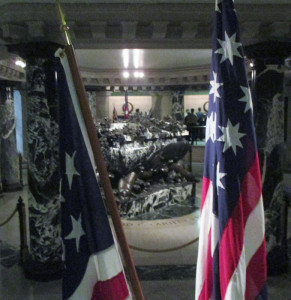 All those samples can be found on a museum visit to Annapolis, but there's another stop on the campus that is a must because it's also filled with flags. They surround the crypt of John Paul Jones. On a wall nearby hangs a plaque that explains how the Scotland-born sea hero gave the Navy its "earliest traditions of courage, honor, and victory."