State Flag Flown at The Gettysburg Address
The Battle of Gettysburg was the turning point in the Civil War, and, sadly, one of the nation's bloodiest battles. Because of the tragic loss of life on the battlefield, the U.S. Government commissioned a national cemetery on the site of the battle in Gettysburg PA. At the dedication ceremony, President Abraham Lincoln delivered one of the most famous speeches of all time – The Gettysburg Address.
Describing the stand from which Lincoln spoke, The New York Times recorded that "numerous flags and banners, suitably draped, were exhibited….The entire scene was one of grandeur due to the importance of the occasion."
Battle of Gettysburg Flags
While the flags typically associated with the Civil War are the Union Flag – similar to the existing American Flag, just with fewer stars – and the flags of the Confederacy, such as Bonnie Blue and the Stainless Banner, there was another flag that made an important appearance following the Battle of Gettysburg.
On November 19, 1863, when President Abraham Lincoln delivered the Gettysburg Address, a navy blue flag featuring the Pennsylvania State Coat of Arms was one of the flags purportedly flying from the platform. Although not officially adopted as Pennsylvania's state flag until 1907, the state's coat of arms was created in 1778.
About Pennsylvania's State Flag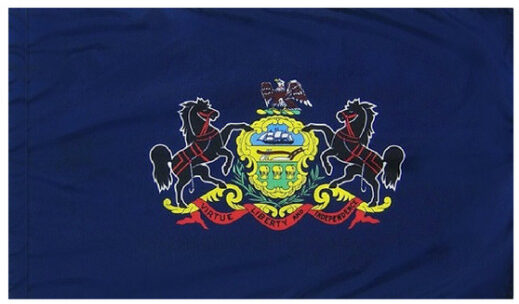 The Pennsylvania State Flag features a crest in the center, flanked on either side by black horses and a bald eagle perched at the top. The crest includes a ship to represent international commerce, a plow to symbolize the state's rich natural resources, and three sheaves of golden wheat, said to represent Pennsylvania's fertile fields and wealth of human thought and action. Beneath the crest, an olive branch and cornstalk cross limbs in a symbol of peace and prosperity, and the state motto, "Virtue, Liberty and Independence" is displayed on a red banner.
In the summer of 2005, State Representative Tim Solobay proposed legislation to add "Pennsylvania" to the bottom of the flag in gold letters. The Pennsylvania House of Representatives voted in favor of the change, however, the Senate State Government Committee never considered the bill, and it died at the end of the Pennsylvania General Assembly's two-year session.
A Piece of History
The actual flag believed to have been flown at the Gettysburg Address is on display in the Pennsylvania Icons exhibit at the State Museum of Pennsylvania. The flag, which is hand-painted on silk with gold leaf, is signed by its maker, William G. Mintzer, a manufacturer of military goods in Philadelphia who was in business from 1839 until his death in 1869.
For those interested in purchasing their own piece of history, Gettysburg Flag Works carries a variety of Indoor Pennsylvania State Flags and Outdoor Pennsylvania State Flags, as well as more than 150 Historical Civil War Flags.