Historic Event to Commemorate the 75th Anniversary of D-Day
On June 6, 1944, more than 150,000 American, British and Canadian military forces landed on five beaches along a 50-mile stretch of the Normandy coastline in France. Known as D-Day, the Normandy landings marked a decisive turning point in World War II, often referred to as the beginning of the end.
To commemorate the 75th anniversary of D-Day and the Battle of Normandy, skydivers from a fleet of original DC-3 and C-47 aircraft will jump into the historic drop zones of Normandy on June 5, 2019.
The Chuters to Parachute into Normandy with 50 American Flags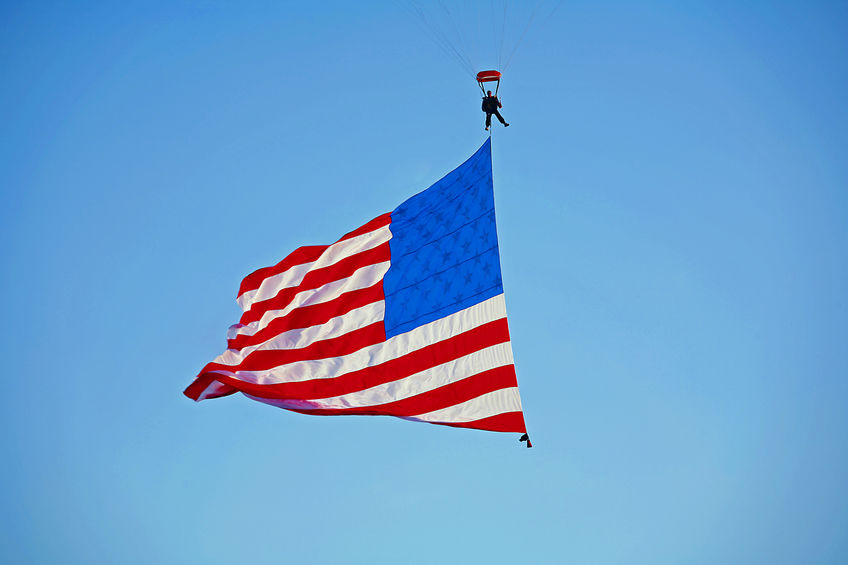 The Black Dagger Military Hunt Club, a non-profit veteran organization out of Florida, has partnered with Gettysburg Flag Works and The Chuters, a patriotic-themed professional parachute demonstration team that performs around the world, to be part of this very special 75th Anniversary of D-Day Celebration in Normandy France.
During the event, The Chuters will parachute into Normandy with a giant 15 foot American flag, and carrying an additional fifty 12×18" American flags, donated by Gettysburg Flag Works and made in the USA.
Once on the ground, the flags will be signed by Retired General John C. Raaen, a WWII vet who stormed the beaches of Normandy in 1944 and authored the book Intact about his experience as a 5th Ranger during D-Day.
These one-of-kind historic flags will then be auctioned off by the Black Dagger Military Hunt Club and other nonprofits around the United States to raise funds in support of veterans.
Memorial Day & the 75th Anniversary of D-Day
It seems rather fitting that the 75th Anniversary of D-Day should fall on the heels of many Memorial Day celebrations in the U.S., as both are a reminder to honor and appreciate the military men and women who have fought for our country.
As John C. Raaen said of Memorial Day in an interview with Florida NBC Affiliate WESH 2, "It's meant to honor the people that saw the elephant, that took the risks, that did or did not survive, but served in war time."
Gettysburg Flag Works is proud to be a part of this very special 75th Anniversary of D-Day celebration, as well as so many other Memorial Day events that take place every year here on American soil. We encourage you to fly your American flags with pride, and honor our fallen with grave markers and cemetery flags on May 27 and again on June 6, 2019.
---
Photos and videos of the June 5 parachute jump and the American flags being signed on the beaches of Normandy will be shared on the Gettysburg Flag Works Facebook page. For more information about the distribution and auctioning of the flags, please contact Black Dagger Military Hunt Club.