Wrapped in a flag
The expression "he wrapped himself in the flag" has a negative connotation that implies someone is using patriotism to disguise baser motives.
In the 19th century, however, some people – most of them military figures — were literally wrapped in flags as part of their funeral ceremonies. In 1840, for instance, the last request of Thomas Oxnard, who captained both privateers and merchant vessels, was to be wrapped in the American flag before being interred – in France.
Another example is Gen. Charles Floyd of Georgia. When he passed away in 1845, word went out that "his body was, at his own request, shrouded in the American flag."
Women who served as nurses during the Civil War wanted the same privilege. "I am bound for heaven," one of them told a newspaper. "I want to be buried with the American flag wrapped around my body."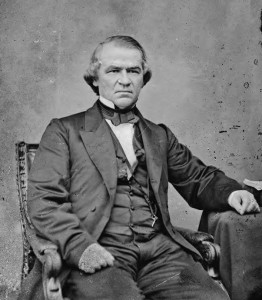 One of the most famous Americans to follow that custom was President Andrew Johnson. When he was buried in Tennessee in 1875, shortly after being re-elected to the Senate, his copy of the Constitution was placed under his head, and his body was wrapped in a U.S. flag made of silk.
That should have come as no surprise. An early biographer of the 17th president wrote, "It has been said that Andrew Johnson never made a public address in which he did not make some reference to the flag and Constitution of his country."
Two funeral directors contacted for this article said that, in their decades of serving families, they have never heard of such a practice and that it has perhaps been supplanted by draping flags over coffins. One of them offers to embroider U.S. flags on the inside lid of caskets, especially for veterans, as a way of honoring their service to their nation.
Both funeral directors said they would be willing to wrap deceased persons in flags as long as doing so did not violate any flag code or custom.