What is Dyngus Day and How Do People Celebrate it?
Dyngus Day is a holiday that falls on the Monday right after Easter Sunday. Historically, it is a Polish holiday celebrated across Eastern Europe and within the U.S. by Polish Americans.
It is a day that not only celebrates Polish culture but is also a day for many to enjoy themselves after the restrictions imposed by Lent. Many consider it a Polish St. Patricks Day!
History of Dyngus Day
Dyngus Day can be traced all the way back to a holiday called Śmigus-Dyngus that is celebrated both in Poland and the Ukraine.
The traditions of this holiday began back in 966 A.D. with the baptism of Prince Mieszko I and the celebrations following the first Polish monarch being baptized into Christianity.
Dyngus Day Customs & Traditions 
Dyngus Day has become a wonderful holiday to celebrate Polish-American culture, heritage and traditions.
One of the most common traditions on Dyngus Day is for boys to douse girls with buckets of water, squirt guns and wet towels.
On Easter Monday, boys would sprinkle the girls with water and tap them with pussy willows. On Easter Tuesday, the girls would do the same to the boys. These days at modern Dyngus Day parties, it is common practice that both men and women trade water and pussy willow equally.
Pussy willows play a big part in some Dyngus Day celebrations as many men and women flirt with playful taps. Branches of these plants are used as it's one of the first budding plants of spring.
Let's Celebrate! Dyngus Day Festivals, Polish Food & Beer
Many consider Dyngus Day a Polish St. Patricks Day!
It is very common in many Polish American communities that a festival is held the Monday after Easter.
Food plays a huge role at these festivals! There's plenty of Polish food to enjoy such as potato pancakes, chicken noodle soup, Polish Hot Dogs, custard filled donuts and pierogi (delicious dumplings filled with potatoes, cheese, meat or fruit). Other traditional Polish foods include kielbasa, stuffed cabbage and even butter shaped like lambs. And of course, there's always a little beer drinking followed by Polka dancing!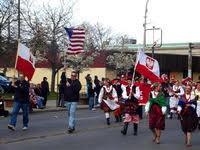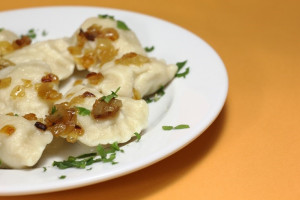 Dyngus day Parade Locations
Dyngus Day is commemorated in places with larger Polish-American communities across the U.S, such as New York and Buffalo. However, Buffalo, NY holds the largest Dyngus Day celebration and commemorates the day with an extravagant parade.
They also have a big celebration locally right here in Troy at The Hill at Muza. Festival goers enjoy a fun day of live music, (a polka band and DJ), Eastern European beers and handmade Polish food. Located near the Capital Region area? This "Polish St. Patrick's Day" is a post-Lenten bash you're sure to enjoy!
Stock Up on Your Polish Parade Supplies
Attending a Dyngus Day parade or festival? Get your Polish pride supplies at Gettysburg Flag Works!
We carry a variety of polish pride products, including Polish lapel pins and Polish sashes. We even carry a Dyngus Day Lapel pin to help you show off your Polish pride! All products are proudly made in the USA.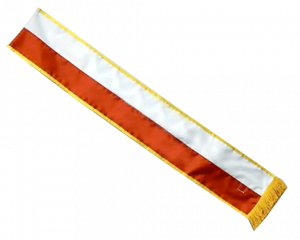 For more information or for questions about any of our polish pride products, please give us a call at 1-888-697-3524 or contact us online.