Kentucky was early state; flag came later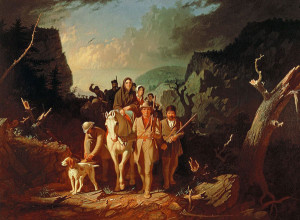 The 15th state to join the Union is Kentucky, something that might surprise people who imagine that all the earliest members of the United States were strung along on the East Coast. While its statehood was early, Kentucky's flag took many years to evolve.
Indeed, the first 14 states were lined up along the Atlantic coast, but the movement of people westward led to Kentucky's entry into the United States on June 1, 1792. That was 225 years ago and due, in large part, to Daniel Boone, who saw the advantages of extending the nation beyond the Appalachians.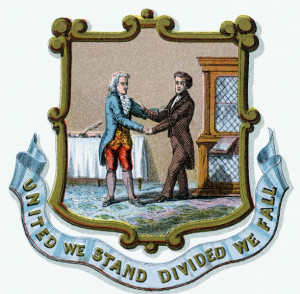 The commonwealth's capital, Frankfort, got its name, it's said, from a man named Frank, who was killed by Native Americans while he sat at a ford in the Kentucky River. "Frank's ford" soon became Frankfort. While that story may be a legend, rather than hard fact, the creation of the flag is definitive. However, it took 126 years to come to fruition.
It wasn't until 1918 that the state legislature quietly announced the creation of a banner for the commonwealth. It was listed among several upcoming legislative bills. There were acts to govern building and loan associations, to provide sanitaria for victims of tuberculosis, to increase the cost of saloon licenses, and to create a "state flag for Kentucky of navy blue silk or bunting, with State seal encircled by goldenrod."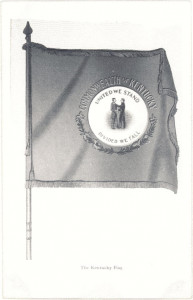 The seal, which dates to 1792, contains the Blue Grass State's motto, "United we stand, divided we fall." A drawing on the seal of two men shaking hands represents mutual support and friendship. One of the men wears buckskin, while the other is more formally appareled.
Through the years, the state flag has appeared at special occasions…and disappeared at another:
*In 1920, for instance, the state flag had its first official appearance with a governor when Gov. Edwin Morrow reviewed troops that had served in France during World War I.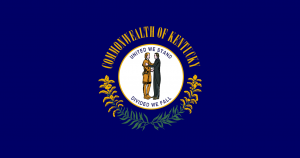 *Two years later, 150 state officials and other visitors brought the banner to the Kentucky House of Reform. One of them noted that the boys had conducted drills without the benefit of a flag to carry, so she spoke about the origins of the American and Kentucky flags, and made the presentations.
*In 1929, a Kentucky state flag was sent to the Edgewater Beach Hotel in Chicago to replace one that was stolen. That flag, which was hand-painted, had been displayed to celebrate a football game between Kentucky and Northwestern, but someone committed a foul by making off with the cloth.
Perhaps it lies neglected in some Chicagoan's dresser, waiting to be discovered and returned home.