How to Design a Custom Boat Flag
Do you have a friend or family member with a new boat? Are you looking for a truly unique item for your own boat? At Gettysburg Flag Works, we are proud to offer affordably priced custom printed boat flags made right here in the USA.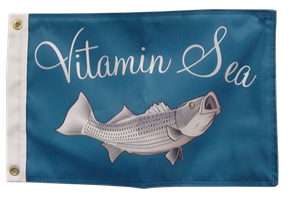 Simply select the Custom Boat Flag option, upload your artwork and enter any design notes on the product page, or email your instructions to graphics@gettysburgflag.com, and place your order.
Once yourorder is received, our graphic artists will email you an artwork proof of your personalized boat flag for changes or approval.
Production takes 10-15 business days from the date of artwork approval.
Want More Customization?
For more sizes, colors and shapes, simply request a custom boat flag quote online or call us at (888) 697-3524. Whether you order online or over the phone,we'll walk you through the customization process, but here are a few things to consider beforehand.
Size
Shape
Single-sided vs. Double-sided
Mounting Type
We also recommend visiting our custom boat flag portfolio, or browsing our pirate and nautical themed designs. If you need assistance designing your custom boat flag, just let us know. We have graphic artists on staff. Contact us at 1-888-697-3524 or message us online to get started today!