Which Flag Material Is Right For Me?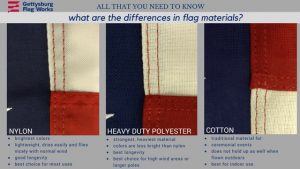 Shopping for a New Flag? We've Got You Covered!
At Gettysburg Flag Works, we carry thousands of flags made of a variety of materials. Whether you're looking for an authentic cotton flag or a durable nylon flag that will stand the test of time (and wind and weather), our team has a flag that will meet your needs.
Browse our selection of flags and banners here. See something you like? Place your order online or give us a call at 1-888-697-3524 to order over the phone!
Looking to order a custom flag? You can learn more about our custom options here, and request a quote for your unique design here.
Still not sure what type of flag material will work best in your specific instance. No problem! Just call us at 1-888-697-3524 or contact us online and we'd be happy to point you in the right direction.