Everything You Need to Know About Marching in a St. Patrick's Day Parade
Every year on March 17th, people from all around the world celebrate the history of the Irish culture. One event in particular is the St. Patricks Day Parade. The parade features an exciting mix of entertainers, local Irish associations, politicians, elaborate floats, school marching bands, police, firefighters, and other locals looking to join in on the fun. It is definitely an event not to be missed.
For those of you who are marching in an upcoming St. Patricks Day Parade…. lucky you! It is truly an honor to walk in the parade. Here are a few rules to keep in mind. But most of all, remember to have FUN!
Rules for Walking in a St. Patricks Day Parade
1.  Wear Green – That's right, wearing green is a given on St. Patty's Day, even if you're aren't Irish. Break out your green hats, shirts or if you belong to an Irish association, you may even have the honor of wearing an Irish tri-color parade sash.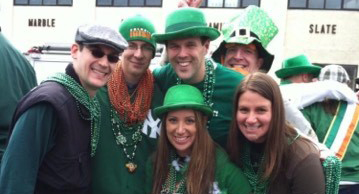 2.  Acknowledge the Irish – Even if you aren't Irish, it's time to reminisce on the importance of this day and Irish Heritage month. If you need a refresher, check out the history of St. Patricks Day here.
3. Walk to Support Your Group – Typically in St. Patricks Day parades, there are many different groups represented throughout the parade. Whether it's a local Irish association or a community band, it's important to show your group off with pride! Many groups use St. Patricks Day banners, custom sashes, and other St. Patricks Day parade decorations.
4.  Show Off Your St. Patty's Day decorations – Feeling creative? Have fun creating a DIY sign, float or your own custom marching banner!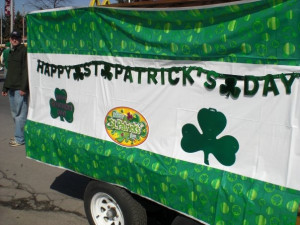 5.  Stand in one line – Although this rule is hard to follow with all the excitement going on, many parade conductors will ask you to walk in a straight line. Keep this in mind for best form.
6. Wave – Make sure to wave to all of the bystanders that are alongside the streets cheering you on. If you have a St. Patricks day flag, make sure to wave that high and proud!
7.  Bring a LOT of Mardi Gras beads. This is the fun part. You can hand them out to people along the side of the road, including kids (and even dogs!)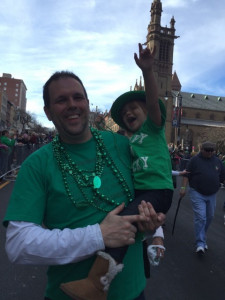 8. Alcohol – Make sure to double check if alcohol is allowed at the St. Patricks Day parade. We all love green beer but it's important to follow the rules.
9. All in all…. HAVE FUN at the St. Patricks Day Parade – Take lots of pictures and videos, and enjoy the celebrations!
Need St. Patricks Day Parade Decorations?
Is your group walking in an upcoming St. Patricks Day parade? Make sure you have all the necessary decorations including St. Patricks Day custom parade banners, sashes, St. Patty's day flags and more.
Have questions about our custom banners or any of our other products? Send us a quick message online and we'll get back to you shortly.
Happy St Patricks Day!