University flag design evolved over time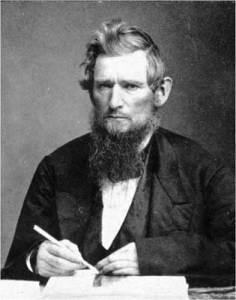 This year marks several important 150th anniversaries (called sesquicentennials), including the end of the Civil War, the death of Abraham Lincoln and the birth of many U.S. colleges. All of them involved flags: regimental banners in the first instance, an American flag in the second, and official designs for school banners and pennants in the last.
A case in point is Cornell University, founded in 1865 in New York State by Ezra Cornell, who had made a fortune through investments in Western Union. Three years were spent in ramping up to welcome the first classes, a span that included designs of the college's "seals, emblems, shields, crests, logotype, logos" for use on such items as custom flags and graduation banners.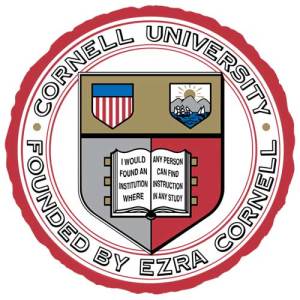 That list comes from "History of Cornell Marks," a written account of the lengthy and complicated process of creating brands for any institution. In the case of the university, its designs have undergone many changes through 15 decades. For example, a profile of Ezra Cornell has faced both left and right on the university's Great Seal.
Many years would pass before Cornell (the college, not the person) decided to design a University Emblem. "It was created expressly for the use of stationers, engravers, printers, decorators," according to "History of Cornell Marks." The emblem might be used, among other places, on university flags and reunion pennants.
The image includes two shields, one to salute the United States and the other to honor the Empire State. The shields bear such images as 13 red-and-white stripes and the Hudson River. Also emblazoned on the emblem is an open book with Ezra Cornell's wordy declaration: "I would found an institution where any person can find instruction in any study."
Because the university struggled with defining its official colors of red and white, different shades have been declared the official Cornell red. Carnelian was first, but it was soon considered "too pale" or orangish. The university next selected carmine, which would last until 1982, only to be supplanted by "cadmium red medium" or, more simply, scarlet.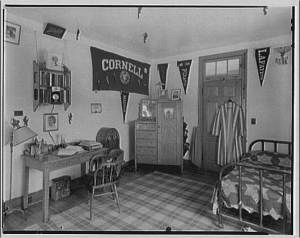 Why was white chosen for the other color on the college's flags, banners and pennants? According to campus lore, the choice was easy: Cornell's first president was Andrew Dickson White.
It's a good thing his last name wasn't Plaid.
(Thanks to Clive D. Howard, art director at Cornell, for providing "History of Cornell Marks.")