Who is Uncle Sam?
There are few symbols of patriotism and American government that are as widely-known as Uncle Sam. As legend goes, "Uncle Sam" is the nickname of Samuel Wilson, a meatpacker who lived in Troy, New York during the War of 1812. Wilson would supply barrels of beef to the army during the war that were marked "U.S." to show that they were government property. However, the unintended reaction was that "Uncle Sam" became a nickname for the United States. As a result, Congress passed a resolution in 1961 that recognized Wilson as the symbol's namesake.
Birth of a legend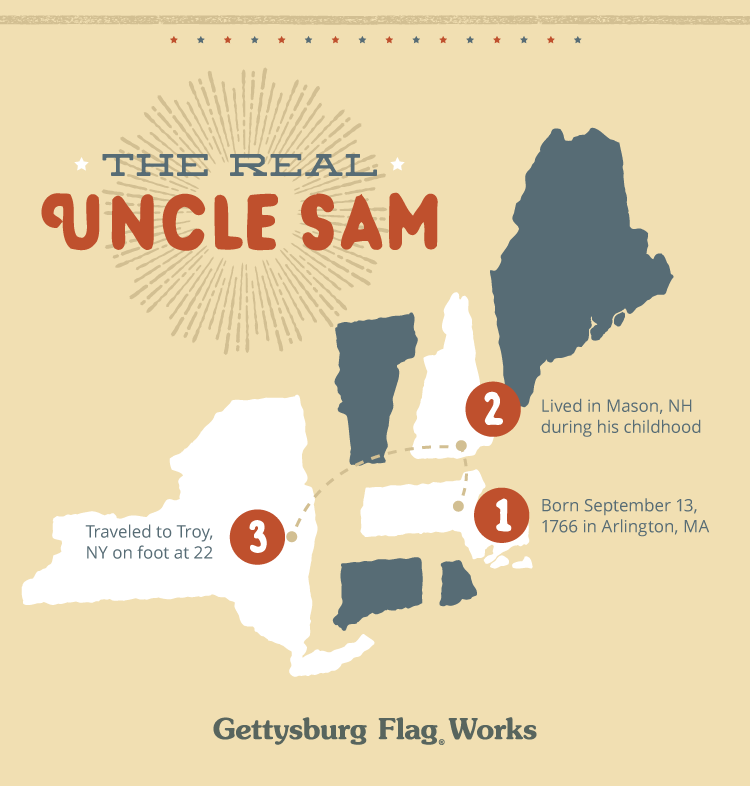 Wilson was born in what is now Arlington, Massachusetts and was descended from one of the oldest families in Boston. He lived in Mason, New Hampshire for most of childhood and then moved, on foot, to Troy, New York at age 22 with his brother, Ebeneezer. Samuel and Ebeneezer were among the pioneers to settle in the Troy area. The community was on the Hudson River, and Samuel and Ebeneezer built several successful businesses. Some say that Wilson's nickname "Uncle Sam" actually originated before his meatpacking career because he was so friendly and well-liked that people referred to him that way as an affectionate term.
Aside from their entrepreneurial ventures, Samuel and Ebeneezer were also deeply entrenched in politics. In 1804, the brothers were elected to a committee to select republican candidates for office. Samuel also served several terms as an appointed inspector of beef and pork, while Ebeneezer became a Justice of the Peace for Troy. Over time, they both held several elected and appointed positions, including Samuel's service as president of the Democratic Committee at Military Hall and president of a vigilance committee for the first four wards of Troy. Aside from their business acumen, both brothers had a strong sense of community and democracy. 
Samuel Wilson married Betsey Mann in New Hampshire in 1797. They had four children, and eventually became grandparents to four more.
How Uncle Sam became a U.S. symbol
Uncle Sam had a prosperous and varied career long before the War of 1812 began. He had a business as a brick maker, in which he made the first bricks that were native to Troy. In fact, most bricks used at that time were imported from the Netherlands. He also was a city employee, working first as Office Assessor and then as Path Master (a position that we now call roads commissioner).
However, it was his later business as a meat packer that catapulted him into U.S. history. Because of his business' location adjacent to a Hudson River dock, it was ideal for shipping meat to the troops. E & S Wilson, the business name used by Sam and Ebeneezer, secured a contract to deliver 2,000 barrels of pork and 3,000 barrels of beef to the army for one year. Sam became the meat inspector for the Northern Army.
He would check the meat for freshness, packaging and other specifications, one of which was labeling. Most of the meat was shipped to Greenbush, New York, where 6,000 soldiers were stationed. Because the camp was close to Troy, many of the soldiers knew of Sam and his meatpacking plant. They also knew of his reputation as "Uncle Sam". Therefore, when they saw the barrels arrive with "U.S." stamped on them, his name became synonymous with the United States identifier.

The Uncle Sam we know today
Chances are that when you think of Uncle Sam, you're picturing the "We Want You!" recruitment image. This image was inspired by a British recruitment poster and was created by James Montgomery Flagg. It appeared in 1916 on the cover of Leslie's Weekly magazine and was captioned, "What Are You Doing for Preparedness?". Between 1917 and 1918, more than four million copies of this image were printed.
Prior to the rise in popularity of this image, cartoonists used Brother Jonathan to represent the United States. Brother Jonathan was a fictional character that was a parody of New England, and he was known for representing business and competition. But, Uncle Sam ultimately overtook Brother Jonathan as the recognized personification of the United States. Ed Wachter was the most famous Uncle Sam impersonator. President John F. Kennedy invited Wachter to the White House in 1961, and he declared Troy, New York the official hometown of Uncle Sam.
This image was used throughout World War II, which even led to the U.S.' being codenamed "Samland" by a German intelligence agency. The term was even used in a popular song in the musical Yankee Doodle Dandy in 1942.
Uncle Sam's image was ultimately one of the first of its kind to spread a message "virally" through various media. Today, we think of a message or image being shared from person to person on the Internet, but at that time in history, the Uncle Sam image took on a life of its own. In 1940, Will Eisner created the Uncle Sam character who appeared in National Comics. The comic Uncle Sam was the spirit of a slain patriotic Revolutionary War soldier. The "spirit" would appear all over the world when his country was in need of his powers.
In the 1950s, the Uncle Sam character was acquired by DC Comics and was used as part of the Justice League to be the leader of the Freedom Fighters. Though Uncle Sam had various comic book personality incarnations, his powers always included super strength, invulnerability, speed, clairvoyance and ability to alter his size.
Memorials to Uncle Sam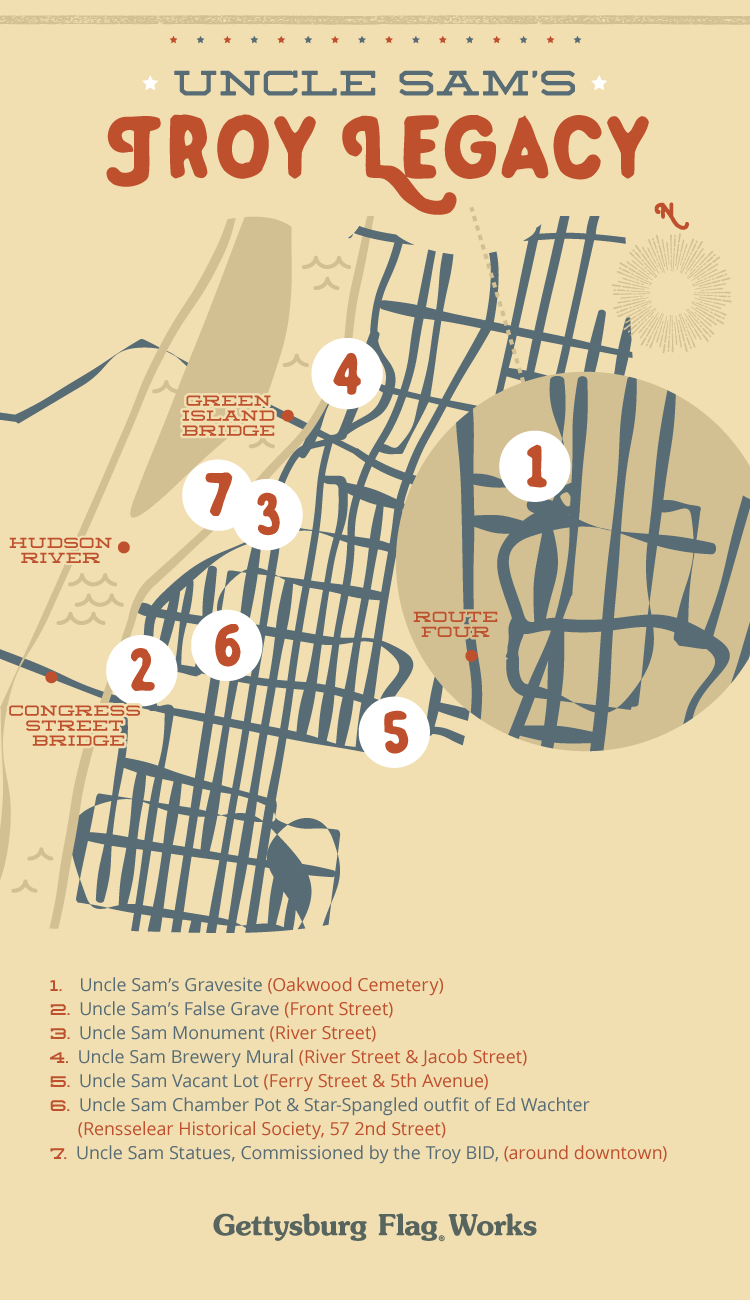 Samuel Wilson, also known as "Uncle Sam", is buried in Oakwood Cemetery in Troy, New York. There also exists a memorial in Riverfront Park in Troy, which is near the home in which he lived during his adult life. There is also an Uncle Sam Memorial Statue in Arlington, Massachusetts, which was his place of birth. The Downtown Troy Business Improvement District worked with 25 artists and five school groups in 2013 to design 30 fiberglass statues of Uncle Sam that remain on display on the streets of Troy.
Sources:
The Rensselaer County Historical Society