Celebrating the 75th Anniversary of V-J Day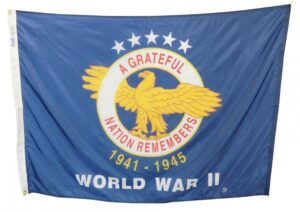 V-J Day, short for "Victory Over Japan" Day, is the day that Japan surrendered, effectively ending World War II. The term is used interchangeably for August 14-15, 1945, on which Japan ceased fighting and the White House announced their surrender, and September 2, when Japan's formal surrender was made in Tokyo Bay onboard the U.S.S. Missouri.
This year marks the 75th anniversary of V-J Day, a monumental day in American history that's definitely worth celebrating.
Celebrating V-J Day in 1945
The news of Japan's surrender was announced in a press conference at the White House on August 14, 1945. According to a speech made by President Harry S. Truman, "This is the day we have been waiting for since Pearl Harbor. This is the day when Fascism finally dies, as we always knew it would."
Following the same naming convention used for May 8, 1945 – the date on which Nazi Germany officially surrendered and was dubbed "Victory Over Europe" or V-E Day – Americans declared August 14-15 "Victory Over Japan" Day.
Reflecting the overwhelming sense of relief and joy felt by citizens of the Allied nations, V-J Day celebrations broke out around the United States and the world, many of which were caught on film. The most iconic photo, of course, is the one that appeared in Life magazine. Taken by photographer Alfred Eisenstaedt, the photo features a uniformed sailor and nurse embraced in a kiss in the middle of a exuberant crowd gathered in New York City's Time Square.
V-J Day Celebrations through the Years
As our relations with Japan improved, many V-J Day celebrations fell out of favor. They were thought to be offensive to one of our closest allies, as well as to Japanese Americans living in our country. In fact, President Bill Clinton referred to V-J Day instead as the "End of the Pacific War" during the 50th Anniversary in 1995. It was a controversial decision that drew marked criticism from those who felt the name change disrespected U.S. veterans who, as prisoners of war, had suffered greatly at the hands of Japanese forces.
Celebrating V-J Day in 2020
In celebration of the 75th Anniversary of the End of World War II, the WWII Memorial will hold a V-J Day 75th Anniversary Commemoration in Washington DC. The National WWII Museum in New Orleans is also recognizing these historic dates, as well as the service members and home front workers who helped preserve our freedom and democracy, with a series of digital programs. The Museum will reflect on the legacy and meaning of the end of World War II through articles, highlighted artifacts, a podcast series, and video content featuring scholars, historians, curators and oral histories from the Museum's collection.
Americans can celebrate the 75th Anniversary of V-J Day at home, as well. In addition to flying an American Flag, families of WWII veterans may include POW/MIA Flags and other Military Flags as part of their anniversary display, or place WWII Grave Markers at their loved ones grave site. A World War II Commemorative Flag, or several WWII Stick Flags, is another thoughtful way to pay tribute to the Greatest Generation – perfect for celebrating the 75th anniversary of V-J Day and the end of World War II.