9-11-01 and after
With the end of summer approaching, the thoughts of many turn to the advent of school, fall sports, leaf season (at least here in the Northeast) and other autumnal events.
As September nears, we at Gettysburg Flag Works can't help but start to think of the events of September 11, 2001.  The terrorist attacks affected the entire world, of course, and the repercussions are still being felt, some 13 years later.  And 9-11 changed our business forever, too, in mostly good ways following that horrible day, but that's not what I reflect upon.
The hours and days following left the attacks left an impression on everyone who lived through them. Many speak of images: the planes hitting the buildings, of smoke and ash in the cityscape, or of the thousands who walked across the Brooklyn Bridge to get out of the city.
People in New York City say they remember family members crying, the passing out of posters of loved ones who worked in the towers, or for the emergency personnel who hadn't been located.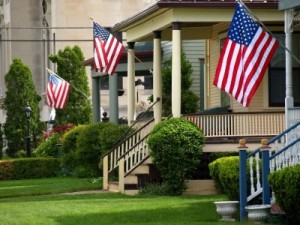 My memories are very different. I went home to those many of images on the news, too, but my life following 9-11 included interacting with the most patriotic people who told me stories of where and why they were flying the American flag and what the flag meant to them.
Because I worked at GFW, I got to witness a change in the people of this country that has, today, become no more than a footnote in most stories about the events. I remember the generosity of customers who left us hundreds of dollars in "change" for their flag to be donated to the relief efforts. They simply were happy to have a flag to show their support. There seemed to be an innate trust that we would do the right thing with the money.
Customers came to the store to answer the phones for us so that we could keep running for more flags to meet the needs of the lines of people streaming in the door. We were brought lunch and drinks, by customers admiring how hard we were working to meet the demand.
In the end, it's that wonderful sense of community that gets to me every time I think back to the events of September 11, 2001.  And I feel blessed to be an American.