Flags flap as WWII ends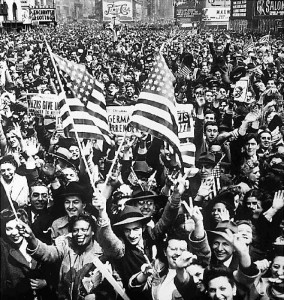 On May 8, 1945, the date World War II ended in Europe, a Pennsylvania soldier wrote home to his wife, Mary. He wanted to tell her about the flags he saw that day and the emotions he felt.
Pfc. Marshall Line, 32, who was stationed with an air squadron in England, reminded her in his letter that "just twenty-one months ago today our ship was pulling out of New York harbor, headed for some destination and adventure."
Now, he continued, "flags of victory are waving in almost every country except Germany, Italy and Japan and we hope that soon Japan will no longer have any flag to wave."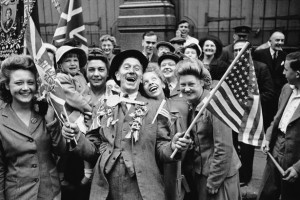 Recounting his morning, he told her, "I arose at 6:10 and by 7:00 had eaten breakfast and shaved. This was our day to get PX supplies." On his way to pick up what was needed, he wrote, "flags and pennants were exhibited on almost every building and the happy looks on every face were very evident."
When he returned to camp, four letters from Mary and two from his parents awaited him, buoying his spirits even more, if that was possible on a day of peace and pennants.
In one of her letters, Mary told Marshall that she had new photos of herself and would send them to him. But, in his view, that was no longer necessary. "Perhaps," he advised her, "you had better keep [them] until my next permanent address is established."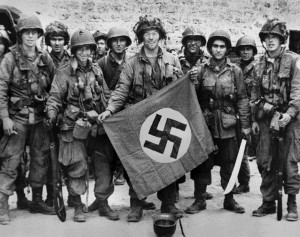 Perhaps he hoped that the address was their house, and she would hand him the pictures in person.
Closing his letter, Marshall told her, "Honey, since we can't celebrate this V-day together I am postponing this privilege until sometime in the future. This night I'll be thinking of you and praying for your continuing courage and love."
Signing off as "your loving husband and devoted life companion," he gave her a new nickname: "My little V-package." At the bottom of the missive, he signed her pet name for him: Patsy.
Marshall wasn't shipped back to the U.S. until February 1946. Mary died 40 years later, and he passed away in 2001.
We can assume that a flag draped his coffin.