Veterans Day Flags: Military Flags, Banners, Grave Markers & More 
to Celebrate U.S. Veterans
Veterans Day Flags, Military Flags and Veterans Grave Markers
Celebrate the men and women who have served or are currently serving our country with Veterans Day flags, banners and veterans grave markers from Gettysburg Flag Works. Whether you're looking for a gift for a veteran, a flag to display your pride and support our troops, or a grave marker to remember the fallen, we have you covered!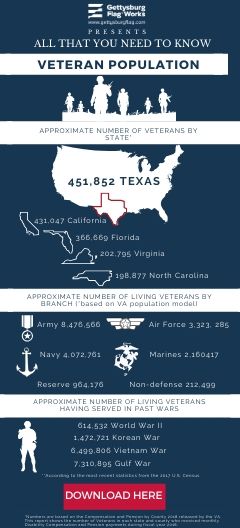 We carry a variety of products that are perfect for Veterans Day. Our military and armed forces flags are the perfect visible reminder of your commitment to and support of those brave individuals who defend our country. We stock a huge variety of flags for all military branches, including Army, Air Force, Coast Guard, Navy, Marine Corps, and Merchant Marine flags.
Our selection of Veterans Day flags also includes POW/MIA flags and Support Our Troops flags and banners. In addition, we carry a huge variety of military medallions and military grave markers.
Celebrating Our Veteran Population
Veterans Day is an important holiday to observe! While Memorial Day celebrates those who died while serving our country, Veterans Day honors all individuals who have served in the military, including the millions of veterans who are still alive and living among us today. (You can learn more about the differences between Memorial Day and Veterans Day here.)
Looking for ways to celebrate? Showing your appreciation for US veterans is a good place to start - and we have some great ideas for how to do so. Learn more about ways to honor veterans and show your appreciation for their service.
Decorating for Veterans Day is another great way to show your support for veterans and those currently serving in the military. Check out our tips for decorating your home for Veterans Day.
Shop Our Flags for Veterans Today!
Whether you're attending a Veterans Day parade or you plan to quietly observe the holiday at home, Gettysburg Flag Works is your source for the Veterans Day products you need to show your pride for our armed forces.
Our Veterans Day flags are durable and long-lasting, made of high-quality materials yet still affordably priced. Shop our selection today and find the perfect Veterans Day flag to show your pride for our veterans!
Can't find the product you're looking for? Contact us online or by calling 1-888-697-3524 and we'd be happy to help.