In-Ground Flagpole Hardware
In-Ground Flagpole Hardware & Accessories
About Flagpole Hardware for Outdoor Flag Displays
Shopping for flagpole parts can be overwhelming. There are many flagpole parts to chose from, but the experts at Gettysburg Flag Works are here to help. If you don't find the flagpole accessories that you need, please call us at 1-888-697-3524 or contact our customer service department online, and a flag hardware expert will gladly guide you through the process.
Important Flagpole Accessories
There are a handful of pieces of flagpole hardware that are necessary when it comes to setting up an in-ground flagpole display. Here, we'll review a few of the key flagpole supplies you'll need to get your flag flying successfully.
In-ground Flagpole Halyard
Flagpole halyard is the rope that is strung along and through a flagpole so that flags can be raised, lowered, and attached to the flagpole. There are a few different options when it comes to selecting halyard for an outdoor in-ground flagpole display, including halyard made of different materials, and wire center halyard.
We offer halyard made of nylon and halyard made of polypropylene. There is no notable difference in durability of the two, but the chemical make-up of the materials does differ. This means that the polypropylene halyard can be dyed silver, bronze or black while the nylon halyard comes in white.
We also offer wire center flagpole halyard. This type of halyard is cut to length and usually used on commercial, internal halyard flagpoles. Wondering how to determine what size diameter and how much halyard you need for your flagpole? The diameter of the halyard depends on the allowable rope diameter of the pulley on the flagpole. Please confirm this diameter BEFORE purchasing. How long should your halyard be? Typically, this is the height of the flagpole multiplied by two (2). For example: a 30' flagpole, multiply by 2 = 60' of halyard. It is better to have a little extra then not enough.
Keep in mind that, as with many of our flagpole accessories, halyard is available in a range of colors including silver, white, bronze and black. If you're not sure what type of halyard you need or what color will work best for your in-ground flag display, don't hesitate to reach out! We'd be happy to point you in the right direction.
Flagpole Snaps or Clips
Snaps or clips are essential pieces of your flagpole hardware. Flagpole snaps are available in many materials, sizes and styles to meet your flag hardware needs. They are attached to the halyard so you can attach your flag to the flagpole easily.
To attach your snaps to the halyard, pinch your halyard into a loop and push the loop through the hole in the snap, pull through and push the whole snap through the loop. When tightened, this will keep your snap from sliding up or down the halyard and your flags can be attached and removed easily.
Check out the video below for a quick walk-through demonstrating how to attach clips to your halyard. You can also call or email us anytime for help with your flagpole hardware.
Additional Flagpole Hardware & Parts
Flagpole cleats mount to the bottom of your flag pole, and are used to secure the bottom of your halyard and keep your flags in place. This is one of the flagpole parts that you will find that has many other applications.
Beaded retainer rings attach to the end of the halyard on an internal halyard flagpole. This keeps the bottom of the flag against the pole. Retainers are not meant to attach directly to the flag, as this can rip your flag. Retainer rings are an optional piece of flagpole hardware. Scroll through the many items in this category to see all of our flag hardware.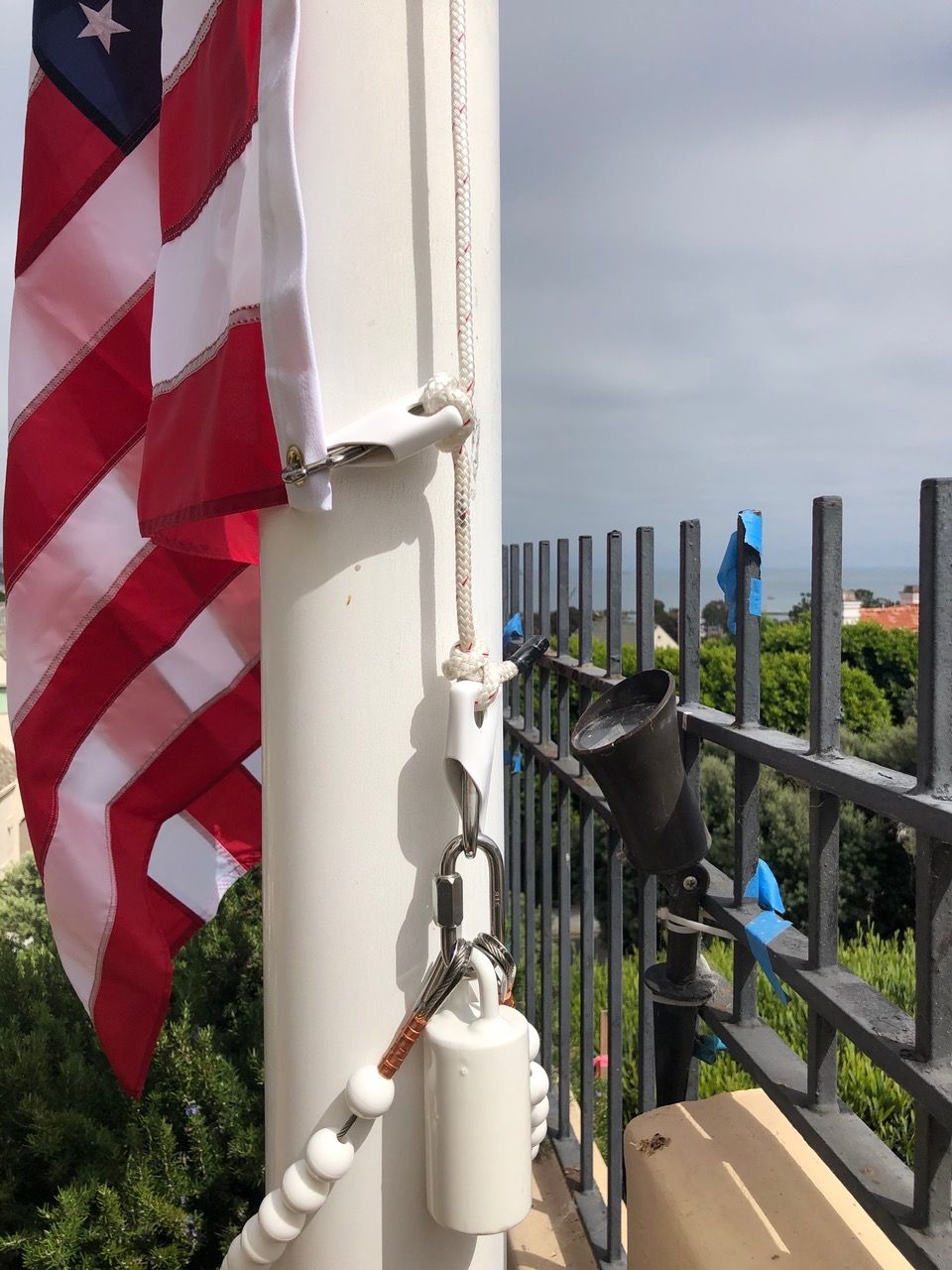 Flagpole counter weights are coated steel. This piece of flagpole hardware attaches to the end of the flagpole halyard on an internal halyard flagpole. This keeps the bottom of the flag down, and pulls the flag down when lowering. Weights are not meant to attach directly to the flag, as this can rip your flag.
Keeping Your Flagpole Hardware In Good Shape
Flagpoles are easy to maintain if you check your flag hardware and flagpole accessories regularly for wear and tear. Typically, you will replace the flagpole halyard every couple of years and other flagpole parts after many years of use or after a damaging event.
Typical flagpole parts that will wear out are the pulley on the truck, the halyard, retainer rings and clips and snaps. Flag hardware, like finials, cleats and caps typically last the lifetime of the flagpole.
Invest in the High Quality Flagpole Hardware You Need
At Gettysburg Flag Works, we are proud to offer a wide variety of flagpole hardware for displays of all kinds. If you're in need of flagpole supplies, you've come to the right place. We've got you covered!
Have questions about flagpole hardware? Ask our experts! Give us a call at 1-888-697-3524 or contact us online and we'll help you figure out exactly what you need to get your flagpole display set up!
Looking for a new flag to display on your in-ground flagpole? An American flag is always a good place to start! Check out our selection of outdoor American flags here.
Thinking about replacing your flagpole as well? Check out our variety of in-ground flagpoles to find just what you need!
Search within...
Category

Mounting

Freestanding (6)

Material
Popular Resource Pages
Popular Product Pages