Residential In-Ground Flagpoles - Shop Aluminum and Fiberglass Flagpoles

Residential In-Ground Flagpoles: Aluminum, Fiberglass, Telescoping & More
Shopping for residential in-ground flagpoles? We carry a variety of in-ground flagpoles including aluminum flagpoles, fiberglass flagpoles, telescoping flagpoles, and more.
Wondering which type of residential outdoor flagpole might be right for you? Read on to learn more about our outdoor flagpole options for home use.
Good Residential In-Ground Flagpole: 20' Economy Sectional
A sectional flagpole is typically light weight. Sectional poles can be removed for safe keeping or repair, stored, and reinstalled from the ground. A sectional flagpole will withstand wind up to 40/45 mph. A sectional flagpole is usually just fine for residential application, as it is easy to put up and easy to maintain. The sectional poles can either come as a telescoping flagpole, or a pole with 5 separate pieces that are attached together. The sectional poles are about 20' high and the one piece poles are available in 5' increments from 15' up to 100'.
Pros and Cons of Sectional Residential Flagpoles
In terms of pros, sectional flagpoles are easy to install and budget friendly. They are simple to operate and maintain. In terms of cons, our economy sectional flagpoles are not wind rated, and they aren't recommended for flying two flags.
Better Residential In-Ground Flagpole: 20' Telescoping Flagpoles
The telescoping flagpole is heavier than the sectional poles, and is also easily removed for storage and / or repair. Telescoping flagpoles can withstand winds up to about 70 mph. The medium weight flagpole is typically a single piece flagpole, and usually is not removed without a lift of some sort, and can withstand wind typically up to 90 mph. The aluminum flagpole is rust free and can come in an number of finishes, including anodized, powder coat, or the standard satin finish, which is a "brushed" finish.
Pros and Cons of Telescoping Residential Flagpoles
Our telescoping flagpoles are made in the USA and feature a 5 year warranty on parts. They are easy to operate and maintain, and can easily fly two flags - though they are not wind rated.
Best Residential In-Ground Flagpole: 20' and 25' Single Piece "Easy Order" Flagpoles
Our Easy Order flagpoles make purchasing a residential flagpole a breeze! Simply place your order online - no special order or separate quote needed - and within a few weeks, your new in-ground flagpole will be on its way to you!
Among our most popular flagpoles are our easy order aluminum in-ground flagpoles that are 20 feet exposed height. These flagpoles feature a satin finish, and hardware is included.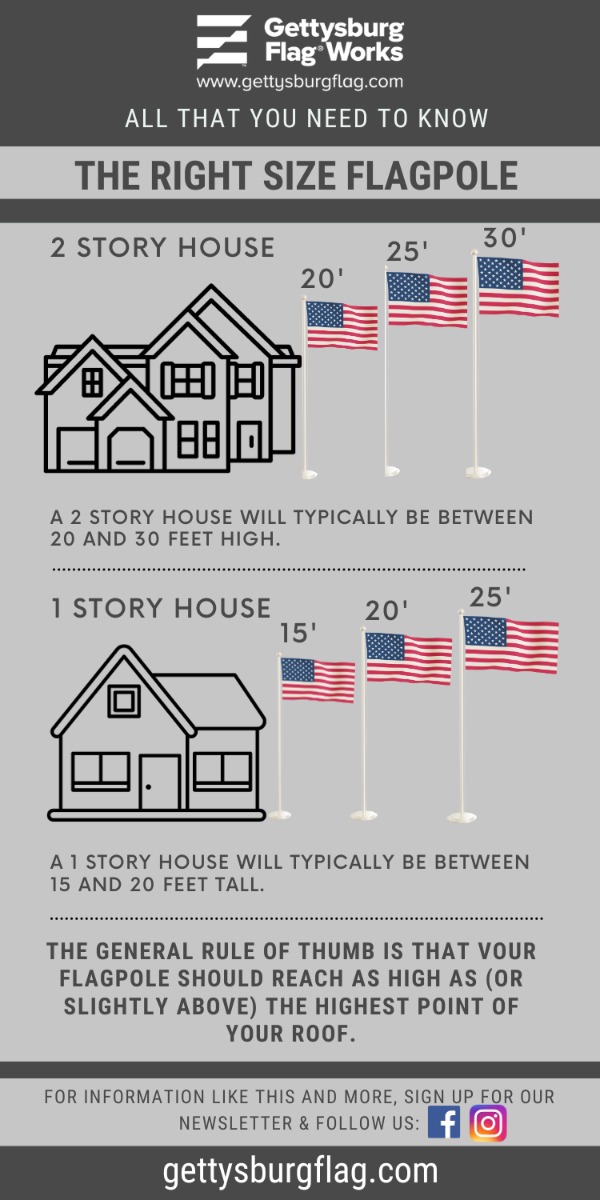 Our easy order flagpoles are also available in fiberglass. These residential fiberglass flagpoles are popular because they also do not rust, and have the added benefit of not being an electrical conductor. However, if the flagpole is wet, electricity (lightning) will conduct along the wet surface.
Our easy order fiberglass flagpoles are white, but fiberglass flagpoles can be ordered in any custom color for an additional fee. This is possible because the final top layer of gel coat can be colored to any color. Some fiberglass flagpoles are "painted" and can also be custom colored - though keep in mind you will have to contact us if you'd like to customize the color of your fiberglass flagpole.
Pros and Cons of Easy Order One Piece Residential Flagpoles
Our easy order flagpoles come with a 20 year warranty. The poles are wind tested and rated, and they are available in satin aluminum or white fiberglass. They are very easy to order, and they ship via freight truck due to their length.
Shop In-Ground Residential Flagpoles Today!
Have questions about any of our residential in-ground flagpoles for sale? Contact us today to learn more about these one piece and sectional poles and find out which one will fit best with your unique needs. Want to chat with a flag expert? Give us a call at 1-888-697-3524 and we'd be happy to assist you!
Curious about flagpole delivery and installation? You can learn more about choosing the right flagpole for you, as well as find information about delivery, installation, and more, within our helpful flagpole selection, delivery and installation resources here.
Need help stringing your flagpole once it's installed? Check out our helpful video tutorial that walks you through the steps of replacing a flagpole halyard here.