Easy Order Satin Aluminum Flagpole 30'
30 Foot In Ground Easy Order Satin Aluminum Flagpole
Gettysburg Flag Works is your source for in ground satin alumnium flagpoles. Our durable residential flagpoles make a great choice if you are in the market for a new in-ground flagpole for your home. Whether you're planning to display an American flag, a military flag or any other type of flag outside your house, our 30 ft satin aluminum flagpole will not disappoint!
30' Residential Flagpoles
Our aluminum flagpoles from Gettysburg Flag Works are constructed of high-quality materials and sturdy enough to withstand heavy winds. Aluminum is a durable outdoor material that doesn't rust or rot and is lightweight. Our satin alumnium flagpoles comes complete with all necessary hardware as well as a Battle Tough American flag and can be shipped directly to your home.
In addition to our 30 foot satin aluminum flagpole, we also carry 20 foot aluminum flagpoles as well as a variety of other in ground residential flagpoles! Browse our selection to find the right flagpole for you.
High Quality Flags, Flagpoles and Flag Hardware
At Gettysburg Flag Works, our high quality flags, flagpoles and flag hardware are made right here in the USA. If you are in the market for a new outdoor flagpole for your house, we've got you covered! Give us a call at 1-888-697-3524 or contact us online with any questions, then place your order today! Don't see what you're looking for? We often more residential flagpole options or even custom options to meet your needs. Give us a call today for more information.
Satin Aluminum Flagpole Specifications
30' satin aluminum flagpole. Single piece construction with an external halyard and gold ball.
Hardware included: Gold Ball, Cast Aluminum Stationary Truck, Halyard, Snaps, Spun Collar, Cleat.
5x8' BATTLE-TOUGH American flag
Installation instructions included
Rated for 60 miles per hour winds (with flag) or 80 miles per hour (without flags)
* SPECIAL NOTES *
Shipping included to most locations within the continental USA.
Some deliveries such as rural and island locations may require a shipping surcharge.
Coupons are not accepted for this product.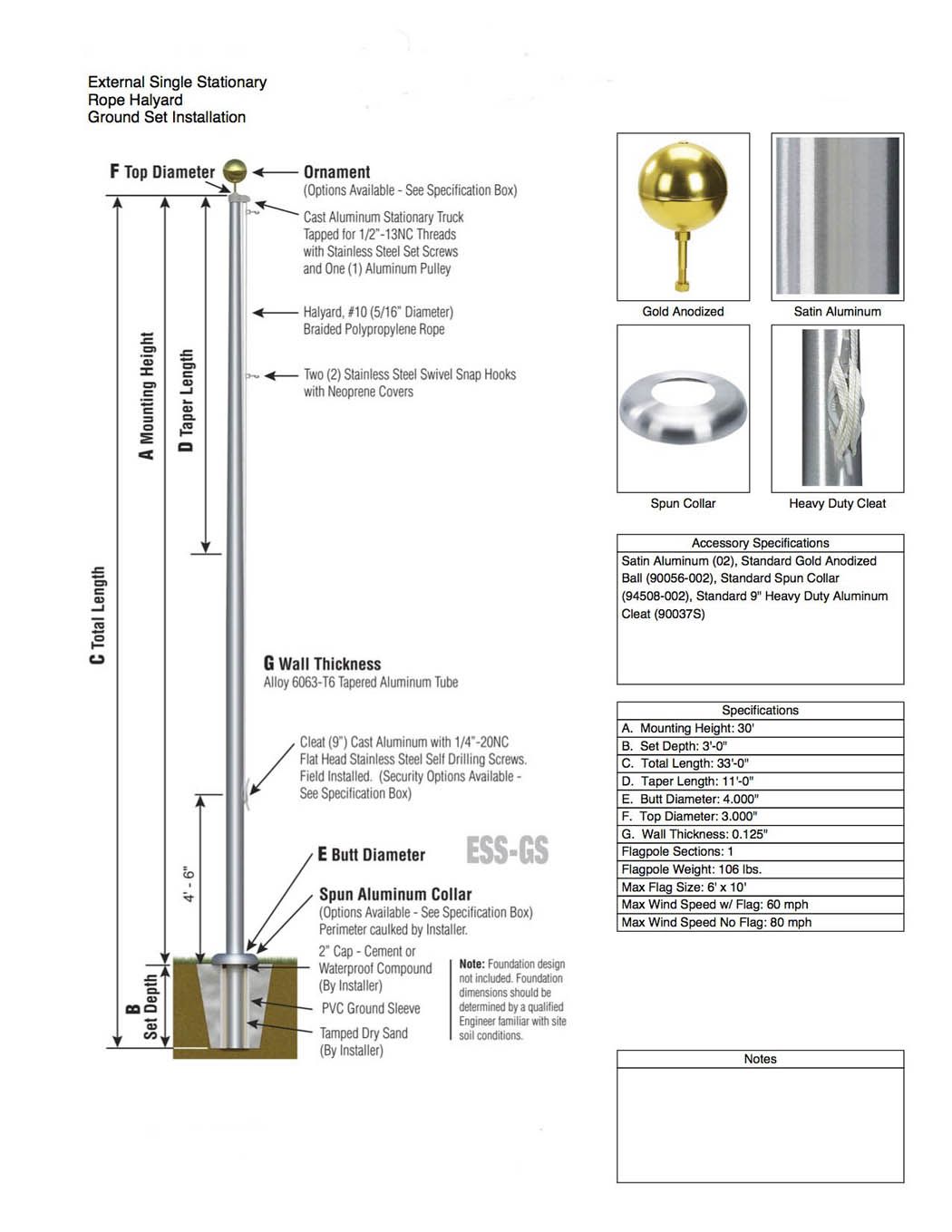 Quick Info:
| | |
| --- | --- |
| Flag Size | 5x8' |
| Material | Aluminum |
| Mounting | Grommets, Freestanding |
| Length | 30' |
| Gifts | Military & Veterans |