Aluminum Spinning Pole
Aluminum Spinning Flagpole Prevents Tangling
This is our #1 Flagpole for Homeowners, and for good reason! Made of aluminum, it will not rust or rot, and the spinning mechanism prevents your flag from getting wrapped around the pole. Your flag, and the pole, just spin freely in the wind. No more tangled flags!
Choose from our 5-foot spinning flagpole in a silver or white finish, or our 6-foot anti-wrap flagpole in oak, white or silver. All of our aluminum spinning flagpoles also include a coordinating ball finial.
Looking for an in-ground spinning pole? See our 9 foot Oversized Non-Tangle Flagpole.
How to Mount Your Flag to our Anti-Wrap Flagpole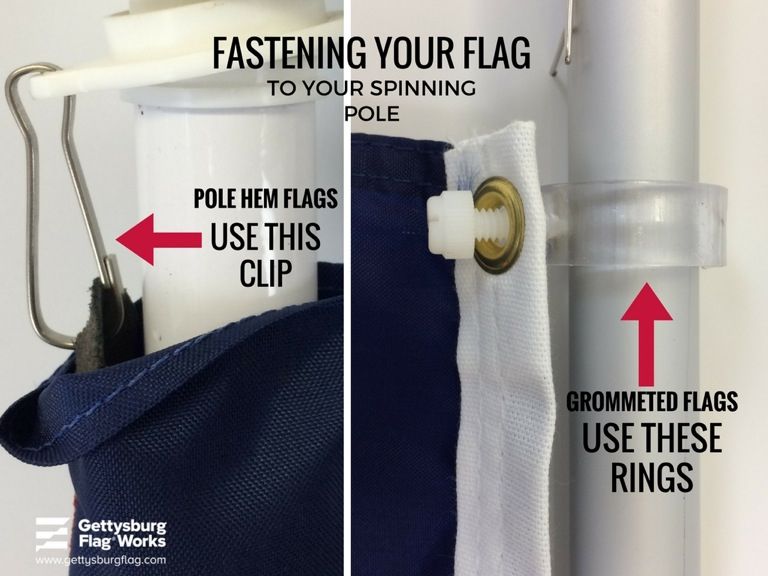 We include two types of hardware, a clip for flags with a sleeve, and rings and screws for grommeted flags, so this tangle-free flagpole can be used with both.
Grommeted Flags: Attach each grommet to the spinning flagpole with the included clear plastic rings and screws. Simply remove the screw from the ring and slide the ring onto the flagpole. Then slide the screw through the grommet and tighten the screw into the ring against the flagpole. (You will not need the included clip).
Flags with Sleeves: Remove the clear plastic rings and screws. (You will not need these.) Slide your flag sleeve up the pole from the bottom to the top. Find the buttonhole/tab inside your pole sleeve. Pinch open the clip located at the top of the tangle-free flagpole and slide the flag's buttonhole/tab onto the clip. This will secure the top of the flag to the pole and allow it to spin freely, while the bottom of the flag will stay down on its own.
How to Order Our Tangle-Free Aluminum Flagpole
Our aluminum spinning flagpole is an in-stock item that can easily ordered online. Simply use the dropdown menu to select the pole length, followed by the metal finish, and then the finial.
For assistance or questions, you can contact us online, or use our Live Chat feature during business hours. You can also call us at 1-888-697-3524 to place an order by phone.
Great Flag Pole
I have the Battle Tough 3x5 Flag and just got the Aluminum Spinning pole in Oak. When we went to install it one of the clear plastic rings wouldn't tighten. I contacted them and they immediately sent a replacement. Now Old Glory is able to fly proud. Thank you Gettysburg, Great Products and backed up by Great Customer Service.
Specific factors:

| | |
| --- | --- |
| Quality: | |
| Value: | |
Solid design and no more wrapped up flag
Solid design and no more wrapped up flag. I always had to pull my old flag off of the light near it. Now I not only have a gorgeous looking new flag but it never gets caught up. I would highly recommend this
Specific factors:

| | |
| --- | --- |
| Quality: | |
| Value: | |
It won't wrap.
I was skeptical, I wasn't sure how they were going to do it. Nothing ever worked before. I am convinced now, high winds for several day with heavy rain but the flag hung true. I bought the wall bracket, also, very sturdy. I would recommend this pole to anyone.
Gettysburg flag promises and delivers.
Specific factors:

| | |
| --- | --- |
| Quality: | |
| Value: | |
Amazing Quality
I have been flying flags for years and was always unwrapping my flags from around the poles. These poles took care of that issue. I have watched my flags get blown straight up and then drop to the pole and they will not wrap! The pole is free spinning and the weight of the flag turns the pole so the flag rests normally. When the wind blows the flag sideways or up, the pole turns freely and then returns the flag to its normal resting position. I bought 3 more of these poles. All wood grain. Love them!
Specific factors:

| | |
| --- | --- |
| Quality: | |
| Value: | |
Fast and Great
Got my new flagpole faster than the shipping I chose! I could tell it was packed with much care and safety in mind! Looks better than my old and the no tangle feature looks great! In one day I've put on a grommet style and a hook style flag and both were easy to install and look great! Thanks for a great product and I'll definitely be back!
Specific factors:

| | |
| --- | --- |
| Quality: | |
| Value: | |
Looks great
I just wanted to thank you for the 6' flagpole, mount and eagle top. My son and I put the Flag up on Armistice Day and it looks great. With the swivel pole the Flag flies freely in the breeze.
Specific factors:

| | |
| --- | --- |
| Quality: | |
| Value: | |
Very durable and lasts for years
I have purchased these Aluminum Spinning Poles for years now for many different year round occasions. Here in Florida the sun is brutal on everything, however these poles and the bearings in the spinners last for years. I use 4 poles at my home and I have had to replace one in over 10 years.
Great quality for sure. Keep up the good work.
Specific factors:

| | |
| --- | --- |
| Quality: | |
| Value: | |
Awesome mounting pole (Sweepstakes Entry)
The Quality of this aluminum mounting pole is fantastic. The flag never tangles and it looks great on my house. I also bought an American flag and the quality of these two items gets comments consistently. The value is commensurate with the products.
Specific factors:

| | |
| --- | --- |
| Quality: | |
| Value: | |
Perfect (Sweepstakes Entry)
Exactly what I wanted. The flag does not wrap around the pole. Beautiful. I made a mistake and left it out during very high winds which bent the pole. I was able to straighten it out - so far it's fine. I bought another to have in reserve.
Specific factors:

| | |
| --- | --- |
| Quality: | |
| Value: | |
Best residential pole
The only pole to get for a residence! Looks great and works perfectly. I really like the wood finish choice. Don't forget to add the gold eagle finial and the black mourning streamer for half staff days. Cheers

Specific factors:

| | |
| --- | --- |
| Quality: | |
| Value: | |
No more tangled flag
Nice flag pole. Only one I have ever owned that does not wrap the flag around the pole. Others make the claim but this one works. I don't care for the plastic connectors to hold the grommets to the pole. Time will tell if they will hold up to the elements.
I would recommend this to anyone whom flys the flag on a regular basis. Mine is 24/7- 365.
The flag is also very high quality.
Specific factors:

| | |
| --- | --- |
| Quality: | |
| Value: | |
So far so good
I received the pole yesterday and put it up today. I do like the spinning pole feature. Not to sure of the lifespan of the plastic clips that hold a grommet flag and hold the flag in place at the pole. As I stated the pole has not been time tested which is why I only rated it a 4 out of 5. So far my flag is flying the wind without wrapping itself up and that was an important option for me.
Specific factors:

| | |
| --- | --- |
| Quality: | |
| Value: | |
Great pole, go with the wood grain.
Great pole, have the white and the wood grain. Think the wood grain looks more expensive even though same price. Dont forget to buy the eagle finial. Cheers
Specific factors:

| | |
| --- | --- |
| Quality: | |
| Value: | |
Completes my home!
The flag is well made, the pole and anchor look strong. Will be hanging it tomorrow. Love to support Veterans's . Happy Independence Day!
Specific factors:

| | |
| --- | --- |
| Quality: | |
| Value: | |
Great Product!
The poles are performing flawlessly. Previously, we had wooden flag poles that were bending from the weight of our flags. Plus the spinners would not spin well on the wooden poles. They are working fabulously on these poles!
Specific factors:

| | |
| --- | --- |
| Quality: | |
| Value: | |
appreciate your company
Just want you folks to know, I appreciate your company and your great service. My order was small . . . just one of your spinning flag poles. Everything you did was excellent and it arrived as you promised. It is now presenting our American Flag proudly on a main street in Kenmore, NY
Specific factors:

| | |
| --- | --- |
| Quality: | |
| Value: | |
Value and quality
order arrived on time and in tact so far very satisfied. Have not actually used product yet. will write another review after use.
Specific factors:

| | |
| --- | --- |
| Quality: | |
| Value: | |
The best for a wall or porch railing
Ordered the 5', 1"dia. spinner with gold ball. Supports your HD polyester 2 1/2' x 4' sleeved Flag. Well built and is a great supporting cast for your Flag! Thank you!
Specific factors:

| | |
| --- | --- |
| Quality: | |
| Value: | |
Outstanding
I bought this pole as a package with an American flag. They have been on my front porch for nearly a year now. They look and work just as fine as the day I got them. Before I had them I would have bought 2 or 3 embroidered flags by now. This is upstate NY and winter is harsh, snow, cold and this year alot of high winds. I kept waiting to come out and see a ripped flag or bent pole. Did not happen! This pole and flag are OUTSTANDING!!
Specific factors:

| | |
| --- | --- |
| Quality: | |
| Value: | |
Exactly what I wanted
Very happy with the beautiful flag pole. It's exactly what I wanted.
Specific factors:

| | |
| --- | --- |
| Quality: | |
| Value: | |
Solid product that looks great
Put this flag on our new home, it looks great and the flag doesn't wrap around the pole just as advertised . The first flag pole we received got damaged in shipment, but Gettysburg Flags promptly replaced it, great customer service.
Specific factors:

| | |
| --- | --- |
| Quality: | |
| Value: | |
6' Silver Spinning 2 Piece Pole with Silver Ball Top
ordered 5', but needed 6' and they changed it immediately. Came very fast and the quality is exactly what I wanted to fly my Anerican Flag...these guys are GREAT!!
Specific factors:

| | |
| --- | --- |
| Quality: | |
| Value: | |
Excellent Quality
I am sending a photo of your flag holders and flag poles. We installed them at Ne-Mar Center in Claremore, Oklahoma. We are currently flying flags commemorating the center's 50th anniversary. We will to fly American Flags on the 4th and plan to come up with some more ideas in the future. The poles and hardware are excellent quality. THANKS!
Specific factors:

| | |
| --- | --- |
| Quality: | |
| Value: | |
| Length | Metal Finish | Finial | Item Code | Price | |
| --- | --- | --- | --- | --- | --- |
| 5' | White | Gold Ball | v60735 | | |
| 5' | Silver | Silver Ball | v60736 | | |
| 6' | White | Gold Ball | v60737 | | |
| 6' | Silver | Silver Ball | v60738 | | |
| 6' | Oak Grain | Wood Grain Ball | v60740 | | |