Order Custom Golf Flags
A personalized golf flag is a great way to commemorate a special day, person or organization. Make your event special with a customized golf flag from Gettysburg Flag Works!
Custom Golf Flags as Sponsor Gifts
Sponsoring a golf tournament is a great opportunity for businesses to advertise their products and services. At your next tournament, get more exposure for your business by showcasing customized golf flags throughout the golf course. These flags also make great gifts for sponsors. After the event, get yearlong exposure at your sponsor's locations by giving them a flag as a gift after the outing.
Create a Customized Golf Flag Today
Making a custom golf flag is easy! With our online tool, you can quickly design a custom golf flag for your next golf outing or tournament. Add hole numbers, company name, logos or sponsor information to complete your event's branding.
Custom golf flags are the perfect way to spruce up your yearly tournament. Check out our Custom Golf Flag Portfolio for some ideas and inspiration, then create your custom golf flag today!
Have questions about our custom golf flags? Send us a quick message online or call us at 1-888-697-3524. We look forward to helping you create the perfect flag for your next event.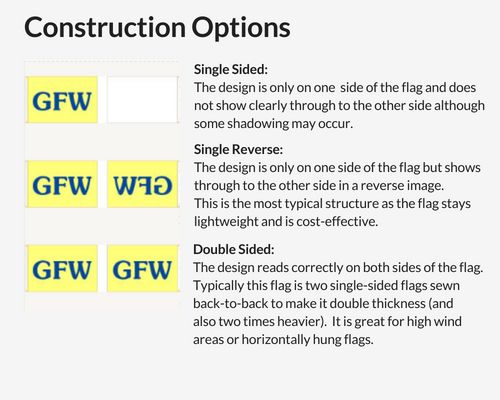 John
Keep working, impressive job!
Specific factors:

| | |
| --- | --- |
| Quality: | |
| Value: | |
DA BOMB!!!!
Got the flags today and they are DA BOMB!!!! Thank you so much for getting these done so quickly. We will see you again next year!!
-Regards, Michael
Specific factors:

| | |
| --- | --- |
| Quality: | |
| Value: | |
You all are THE BEST!
Hey there Gettysburg Flag Team, I just received the Indian Creek School pin flags and they look beautiful again this year! Thank you for helping us create such a fun and unique gift for our sponsors. They love it and we enjoy beautifying and personalizing the course for the day of our tournament.

Sincerely, Nancy
Indian Creek School
Specific factors:

| | |
| --- | --- |
| Quality: | |
| Value: | |
looks GREAT
I just received my golf flag in the mail. I want to thank you all for doing a fantastic job on it. It looks GREAT. I've worked with other vendors in the past that produce custom golf flags, and none compare to the quality of material, craftsmanship and print clarity – as the flag I received from Gettysburg Flag. The cost I felt was reasonable too. I know our sponsor will be extremely pleased.
Specific factors:

| | |
| --- | --- |
| Quality: | |
| Value: | |
Flags looked beautiful out on the course!
I just wanted to follow up with you to let you know that we had our tournament Monday, and the flags looked beautiful out on the course! The sponsors were also quite pleased with them, and so I wanted to thank you and your team at Gettysburg Flag for your top-notch work!

If we have flag sponsors next year, I hope to use Gettysburg Flag again!

Kindest regards,
Alisa
Veterans Outreach Center, Inc.
Specific factors:

| | |
| --- | --- |
| Quality: | |
| Value: | |
Neighbors are GREEN with envy!
My "Welcome The Prestons" golf flag has arrived! It's wonderful! The workmanship & color detail are excellent. I couldn't wait & flew it ahead of time for my birthday boy...and all our neighbors are GREEN with envy! The flag lady at the flea market can't compete! Thank you SO MUCH!

Marylou
Cyberscribe, Inc.
Specific factors:

| | |
| --- | --- |
| Quality: | |
| Value: | |
| Construction | Item Code | Price | |
| --- | --- | --- | --- |
| Single Sided | GFB00130-SS | | |
| Single Reverse | GFB00130-SR | | |
| Double Sided | GFB00130-DS | | |