American Flags Material
American Flag Specifications · 100% Made in the USA!
American flags come in a variety of styles and materials. Here, we'll review the various types of American flag materials available, discuss available flag features, and outline how to choose the material that works best for you!
American Flag Materials
One of the most common questions we get from our customers is: What type of American flag material is right for me? In the short video below, we answer that question and review three of the most common American flag materials that we offer. Watch to learn more!
Selecting the Right Flag Material
Nylon: This heavyweight Dupont nylon is the most versatile and longest lasting nylon fabric available. It's combination of strength and brilliant display, along with its quick-drying ability, make it suitable for a wide range of applications. Great in rainy areas, its lightweight and close weave enable it to fly in the slightest breeze, giving it the fullest visual effect.
2-Ply Polyester: 100% spun polyester. Woven construction utilizing a 2-ply spun polyester thread for extra strength. Combining durability, strength, and quality appearance, with a rich feel and look. These are ideal for extreme weather conditions without the excess weight. Ideal for high wind areas, and for daily flying.
Cotton: A traditional, natural fiber bunting made of heavyweight 2 ply mercerized cotton. It combines extremely rich, vibrant, long-lasting colors, and good wearing quality for excellent overall appearance and value.
American Flag Construction Features
We exceed US government specifications for material and workmanship on our nylon American flags. Unlike others, we use superior bonded nylon thread for extra strength. Our American flags are 100% Made in the USA.
Check out the key flag construction features that set our American flags apart!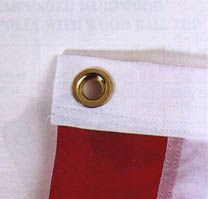 Polyester canvas heading with #2 solid brass rolled rim tooth grommets on 3x5' through 6x10' flags.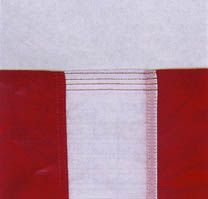 Fly end hem reinforced by four needle lock stitching. Fly corners on larger ones are box stitched for extra durability.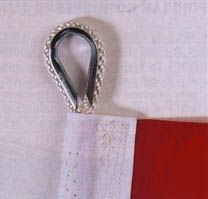 Nylon rope through canvas heading on 8x12' and larger. Galvanized metal thimbles protect rope ends.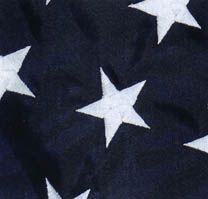 Embroidered stars on all USA Flags shown here on sizes 2x3' through 12x18'.
American Flag Stitching
Remember that old strand of Christmas lights? The kind that when 1 bulb goes out, they all go out? It's the same way with many American Flags and how they are stitched! If you purchase a flag with chain stitching, as soon as one single thread breaks, the whole stripe will come completely apart! You've probably seen them on neighbors' houses right?
Well, our outdoor flags will not do that! Ours have lock stitching not only on the fly end, but also on every stripe and around the canton (star field). Rest assured that no matter what material you choose, when you shop with Gettysburg Flag Works, you are getting the very best American Flag!
What is the lifespan of a flag?
A flag's life span is impossible to predict; it is like predicting the weather. The major enemies of a flag are wind, sun and carelessness...the single greatest cause of flag deterioration.
No one can control the weather, but you can take care of your flag and lengthen its life by doing the following:
occasionally in warm mild detergent
Letting your flag dry thoroughly before storing it
Having your flag repaired at the first sign of fraying
Taking your flag down at night and during bad weather
Our flags are manufactured to give maximum service in return for reasonable care and prudent use. Remember, no two flags receive identical wear. The best way to stretch your "flag dollar" is to have three flags: one flying, one in the wash, and a clean one in storage for special occasions.
Have questions about which flag material option is best for your specific scenario?
Give us a call at 1-888-697-3524 or contact us online and we'd be happy to point you in the right direction.
Popular Resource Pages
Popular Product Pages